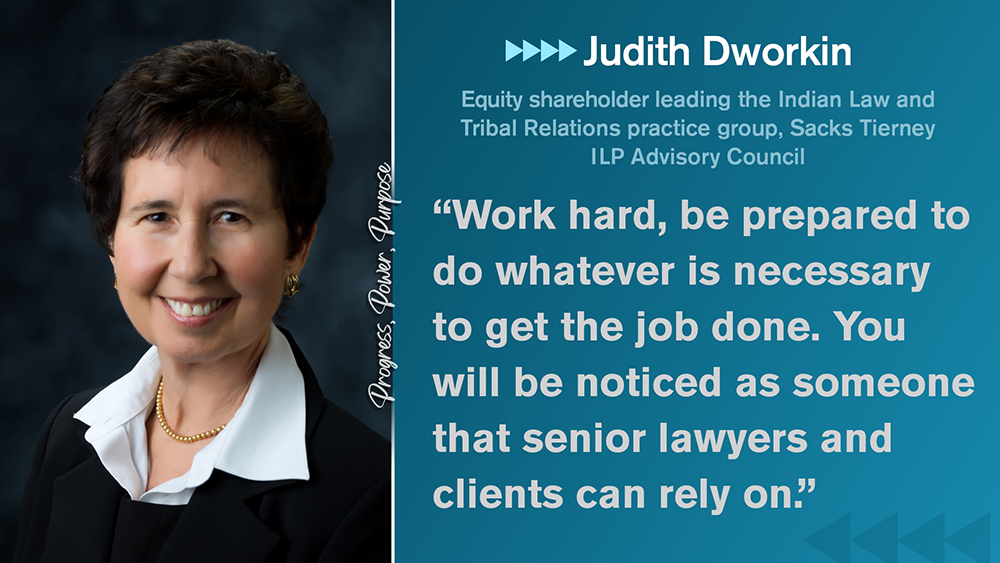 In celebrating "Women's History Month," we turned to some of the women of the ILP to shed light on Native women legal professionals and advocates in this Progress, Power, Purpose series. As an ASU Law alum who clerked for Judge William C. Canby, Jr., of the U.S. Court of Appeals for the Ninth Circuit and a founding faculty member of the Sandra Day O'Connor College of Law and the Indian Legal Program, it was for a greater purpose that she become a longtime Indian legal defender and a respected member of the ILP Advisory Council. Powerfully positioned at one of Arizona's prestigious law firms and leading its Indian Law and Tribal Relations sector, she was recently named as one of the The Best Lawyers in America. 

Q: What does your current position entail?
A: I recently stepped down as the managing partner of a 35 person law firm. I am an equity shareholder and the head of the Indian law practice area. I currently supervise two Native American lawyers and I represent various tribes, tribal districts/chapters and tribal enterprises in both transactional and litigation work.

Q: Were you always interested in this kind of work?
A: After I received a Ph.D. I taught water resources management at two research universities and then left to obtain a law degree. I have been interested in this practice area since law school.

Q: What advice do you have for Native American women who want to work in this area?
A: My advice for any woman is to work hard, be prepared to do whatever is necessary to get the job done. You will be noticed as someone that senior lawyers and clients can rely on. In addition, learn what work style the senior lawyer has and be available.

Q: What is your proudest career moment?
A: Probably one of the most fulfilling was ensuring that DNA People's Legal Services didn't fail because of the failures of the CEO and the CFO. Through hard work, lots of overtime and making difficult decisions, we managed to keep the doors open for this Legal Services organization. As a result I was awarded the Foundation for Justice Award.

Q: Is there anything you've learned after graduating law school that you wished you learned in class?
A: It's been a long time since I was in law school. The social media stuff wasn't around and I would like to do a better job at that.

Q: What is the most valuable lesson you learned in the classroom that has helped you in your career?
A: How to read cases and summarize the decisions.

Q: Who are three Native American women law professionals and/or advocates who should be on our radar right now?
A: Patty Ferguson, Candace French ('17) , and Hilary Tompkins.

Review Judy's publications:
Continue to Progress, Power, Purpose series.
________
Danielle Williams
Program Coordinator, Indian Legal Program, ASU Law