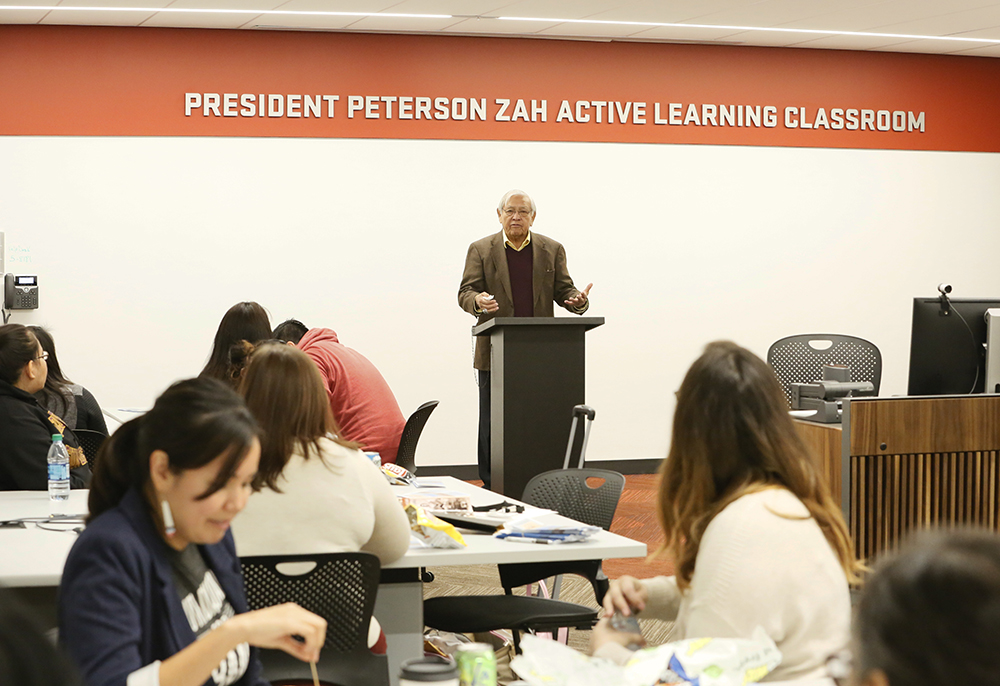 The late Honorable Peterson Zah was a dedicated leader to the Navajo Nation, ASU, the Indian Legal Program and all Native students. Zah was the First President and Last Chairman of the Navajo Nation. What many people do not realize is that Zah served as the Executive Director of the DNA People's Legal Services for 14 years. Under Zah's leadership several cases advancing tribal sovereignty went before the U.S. Supreme Court. In the early 1970s when Judge William C. Canby Jr. was teaching Indian Law at ASU and training talented Native students, Zah was fighting in the courts and seeing the need for Native attorneys. Zah worked with and hired some of ASU Law's first Indian students taught by Judge Canby – Claudeen Bates Arthur ('74), Ben Hanley ('71), Louis Denetsosie ('74) and Herb Yazzie ('75) to name a few. 
During Zah's career he fought for education, helped raise funds for scholarships for Native students and encouraged students to go to law school. Zah was able to work with people at all levels of government to help his Nation. In 1995 Zah continued to use these skills at ASU to bridge the gap between Tribes and ASU. Zah personally helped secure the ASU Law/ Navajo Nation matching funds scholarship program to enable Navajo students to get an affordable legal education at ASU Law. 
As a thank you for his service and his advocacy for tribes and tribal people, ASU Law honored President Peterson Zah in 2017 by announcing the naming of the "President Peterson Zah Active Learning Classroom." The active learning classroom was selected for Zah because the room allows people to work together on projects and strategize to find solutions just as Zah did throughout his life. This room is located on the 3rd Floor of the Sandra Day O'Connor College of Law at ASU's downtown Phoenix campus.
Honorable Peterson Zah's advocacy, leadership and friendship will be missed but not forgotten.