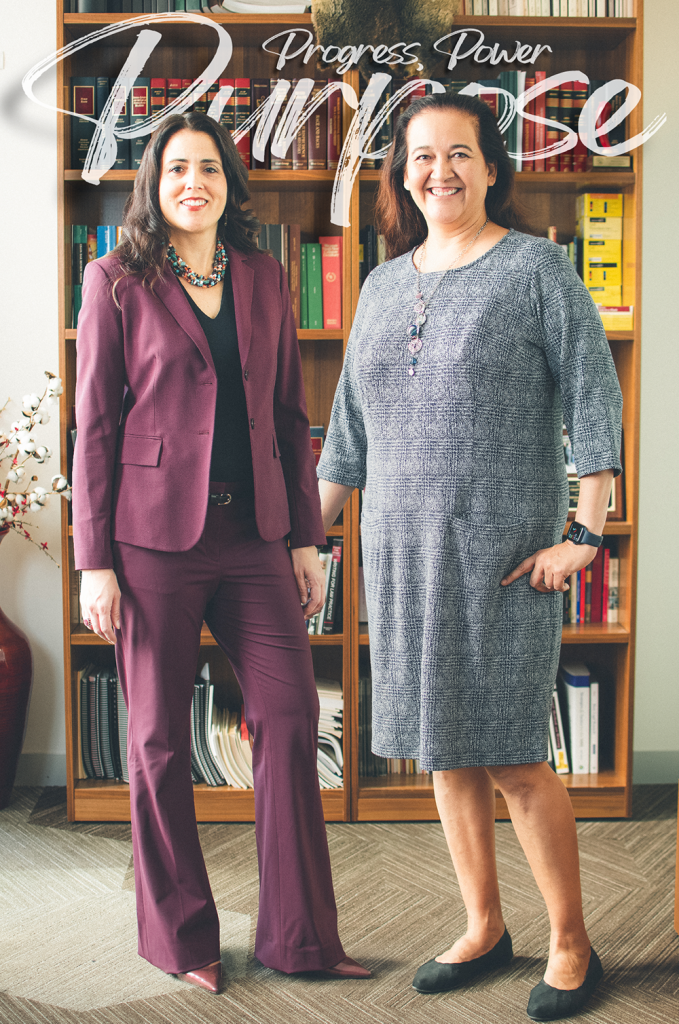 Life in a pandemic has not been easy for any of us but we remain resilient and stand strong. While political changes are shifting with the new Biden-Harris Administration, we recognize history in the making. Congresswoman Deb Haaland is front and center as a reminder of women in their power. In celebrating "Women's History Month," we turned to some of the women of the Indian Legal Program to shed light on women legal professionals and advocates in this Progress, Power, Purpose series. Starting with ILP's powerhouse lady leads, Executive Director Kate Rosier who was recently appointed as Assistant Dean of Institutional Progress at ASU Law and Faculty Director and Indian Legal Clinic Director Patty Ferguson-Bohnee.
In spite of these tumultuous times, ILP's lady leads have not skipped a beat. In fact, they have greatly expanded and transformed the digital media scene from offering free CLE virtual events (McGirt webinar is still ASU Law's largest webinar attended) to increased collaborative partnerships. Since the law school reopened its doors to the administration and began offering hybrid courses in August 2020, these lady leads are in their offices every week with their doors open to current and prospective students, and teaching their respective classes. All in the name of good service. 
As a program led by Native women, we want to celebrate our women who are serving their communities, holding seats at the tables of governance, strategizing to secure victories, blazing trails and setting a tone for the generation of Native women to follow. 
Read their stories in the Progress, Power, Purpose series:
Kate Rosier, Director and Assistant Dean of Institutional Progress
Patty Ferguson-Bohnee, Faculty Director & ILC Director
Ann Marie Bledsoe Downes ('94), Professor of Practice and Indian Gaming & Tribal Self-Governance Programs Director
Stacy Leeds, Foundation Professor of Law and Leadership
Honorable Diane Humetewa ('93), Professor of Practice
Helen Burtis ('07), Faculty Associate
Breann Swann Nu'uhiwa ('09), Faculty Associate
Torey Dolan ('19), Native Vote Fellow
Jennifer Giff ('95), Advisory Council
April Olson ('06), Advisory Council
Nikki Borchardt Campbell ('09), Advisory Council
Judith Dworkin (ASU Law '86),  Advisory Council
Maria Dadgar, Advisory Council
Claudeen Bates Arthur ('74)
Gloria Kindig ('89)
Diane Enos ('92)
Debra Gee ('94)
Doreen Nanibaa McPaul ('01)
Lydelle Davies ('02)
Diandra Benally ('05)
Stay tuned for more updates to celebrate Women's History Month.
Note: Photo cover of Kate and Patty were photographed separately with full safety measures and edited post-production.
________
Content creator & photo credit: Danielle Williams
Program Coordinator, Indian Legal Program, ASU Law