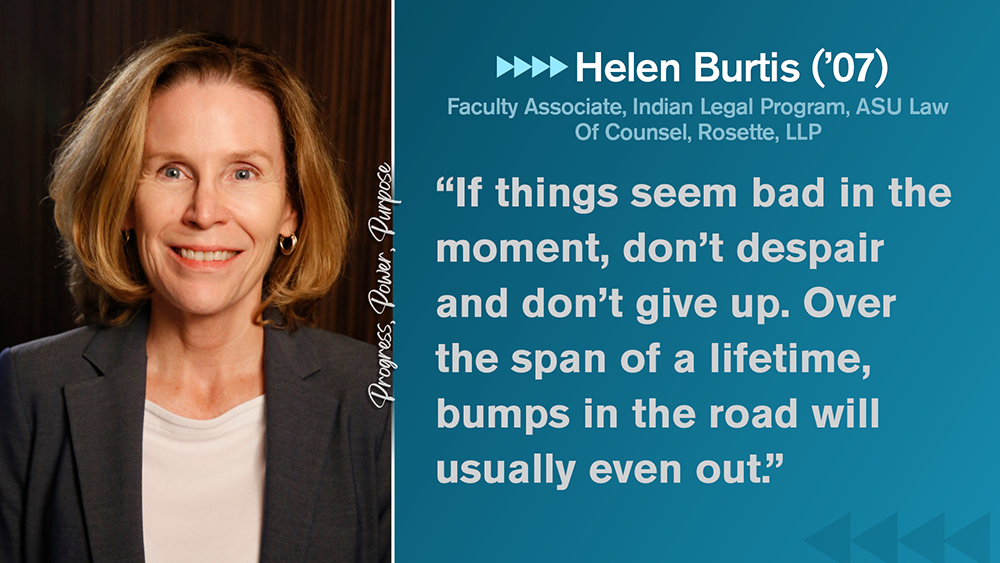 In celebrating "Women's History Month," we turned to some of the women of the ILP to shed light on women legal professionals and advocates in this Progress, Power, Purpose series. Another wise woman who has been instrumental to the Indian Legal Program, Faculty Associate at ASU Law and ILP alum Helen Burtis is expanding the ILP vision. Community partnerships and preparing student attorneys are important to the Indian Legal Clinic and Helen works to harness the civic power of the Indian Wills Clinic. Despite the global pandemic crisis, the Indian Wills Clinic continued its service and held virtual sessions working with tribal members to discuss estate planning needs for the Pechanga Wills Clinic last semester and Quechan Wills Clinic just last week.  
Q: What does your position entail?
A: As a Faculty Associate, I teach various Indian law classes and do some program work, including organizing the bi-annual Tribal Court Trial Skills College and also creating new on-line Indian Law courses.
Q: Were you always interested in this kind of work?
A: The law is a second career for me. I spent the first half of my professional life working in the financial services sector, predominantly as an executive for a Fortune 500 insurance carrier. I decided to go into the law because I didn't want to work my entire life in only one field plus I found legal work, especially Indian law, very interesting.
Q: What advice do you have for Native American women who want to work in this area?
A: As you're figuring out what you want to do with your career, try not to exaggerate in your mind the importance of any one decision. There are only a few decision in life that take you down a path you can't later deviate from. If you find something you're interested in, give it a try. If it turns out to be your dream job, fantastic! If your interest later turns in another direction, you can always pursue that new avenue.
Q: What is your proudest career moment?
A: My proudest moments are when I see ILP students in action, such as Indian Legal Clinic student attorneys drafting wills for Native American landowners. What I feel is a special joy from seeing them reaching their potential in a way that benefits individual tribal citizens and tribal communities.  

Q: Is there anything you've learned after graduating that you wished you learned in class?
A: My professors at the Sandra Day O'Connor College of Law and the ILP really did great jobs of preparing me to practice. My time in the Indian Legal Clinic and also the two week summer-session Intensive Writing course taught at that time were especially helpful.

Q: What is the most valuable lesson you learned in the classroom that has helped you in your career?
A: One of the most valuable lessor I learned was that fully understanding the other party's position is a great way to be a better advocate for your client. One of my courses in law school was taught by a professor who had represented positions adverse to Indian County many times. Learning the law from their perspective, which was really from the "state's" perspective, greatly advanced my understanding of why courts often decided cases against tribal interests and also how to create arguments to overcome those state-centered positions.
Q: What is your advice for current students?
A: If things seem bad in the moment, don't despair and don't give up. Over the span of a lifetime, bumps in the road will usually even out.
Q: Favorite law school memory.
A: When I was a student attorney in the Indian Legal Clinic, one of my clients won his motion to dismiss for lack of evidence. I was in class when we received the court's order dismissing the charges against the client with prejudice, so the Clinic's paralegal called him right away to give him the good news. He said he wanted me to call him when I got out of class because he would believe it when he heard it directly from his attorney. That made me feel legit.