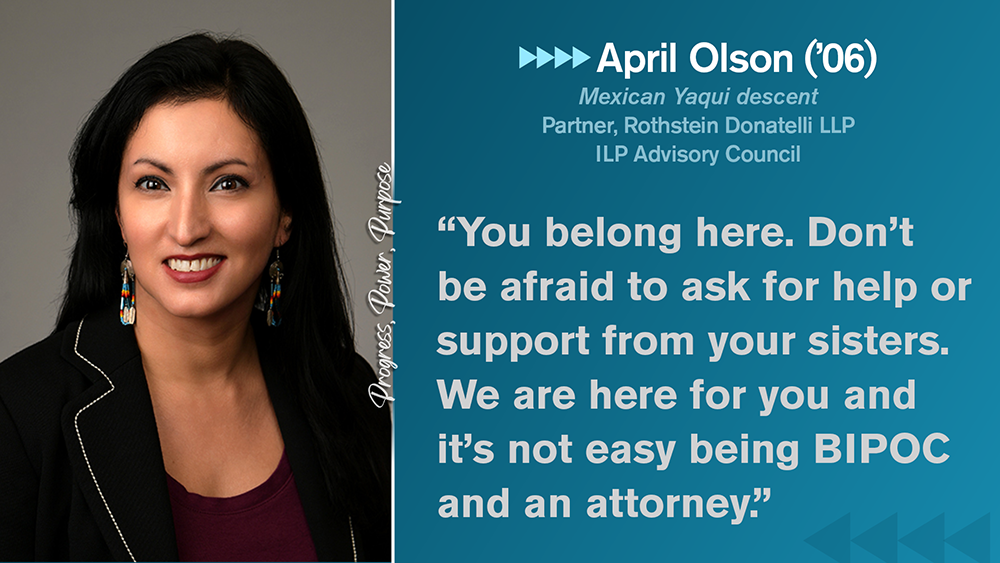 In celebrating "Women's History Month," we turned to some of the women of the ILP to shed light on women legal professionals and advocates in this Progress, Power, Purpose series. It is the century of the woman, and we know that it's time for women to occupy all spaces meant to be occupied. While in law school, students learn about different areas of the law. With her prior experience in social services, this fierce advocate knew what she wanted before she began her law school journey and is now an ICWA expert, among other areas of law. She has worked hard to fine-tune her craft and is a partner at a local law firm and has been serving on the ILP Advisory Council since 2016. 
Q: What does your position entail?
A: I am a partner at a small firm, Rothstein Donatelli LLP. I am also one of two co-managing partners. As a partner, I am responsible for helping to manage the business aspects of the firm. I am also a practicing attorney with a full caseload. The Tempe Office of the Firm has 2 partners and 2 associates and we only practice in the area of tribal law and federal Indian law. My clients are primarily Indian tribes or tribal entities, although I occasionally take on individual clients for pro bono work and represent indigent defendants. My practice focuses on Indian Child Welfare Act (ICWA) work, labor and employment, investigations (criminal, ethics, employment), litigation and general counsel type work. I am also a Tribal Court Judge for a tribe in California and I sit on two Tribal Appellate Courts.     
Q: Were you always interested in this kind of work?
A: Yes! Before I went to law school, I did social work for a tribe in Minnesota. It involved licensing on-reservation foster families, helping place children in accordance with ICWA, and working with youth aging out of foster care. I loved it and it was a catalyst for me going to law school. If you ask Kate, I only wanted to do ICWA when I got to ASU; however, that changed…
Q: What advice do you have for Native American women who want to work in this area?
A: You belong here. And, don't be afraid to ask for help or support from your sisters.  We are here for you and it's not easy being BIPOC and an attorney. The stories we could tell.    
Q: What is your proudest career moment?
A: This is tough, but probably when I traveled cross country with a baby to give her back to her young, Indian birth mother. An adoption agency had tried to adopt the baby out, but ICWA prevailed! Second best is probably when we won our appeal in one of the Standing Rock water protector cases and a conviction was overturned.  
Q: Is there anything you've learned after graduating law school that you wished you learned in class?
A: Sometimes the best route for your client is not straight through but around. Relationships matter, as does how you approach a task and others.
Q: What is the most valuable lesson you learned in the classroom that has helped you in your career?
A: Always be prepared! Thanks Professor Clinton.
Q: Who are three Native American women law professionals and/or advocates who should be on our radar right now?
A: Only three??? Ok.
Deb Haaland, first Native American confirmed as Cabinet Secretary
Doreen McPaul, phenomenal Navajo AG
Natalie Landreth, amazing former NARF attorney, now deputy solicitor
Q: Favorite law school memory.
A: Too many to count. But I miss just stopping by the ILP room for a chat, family time, etc..