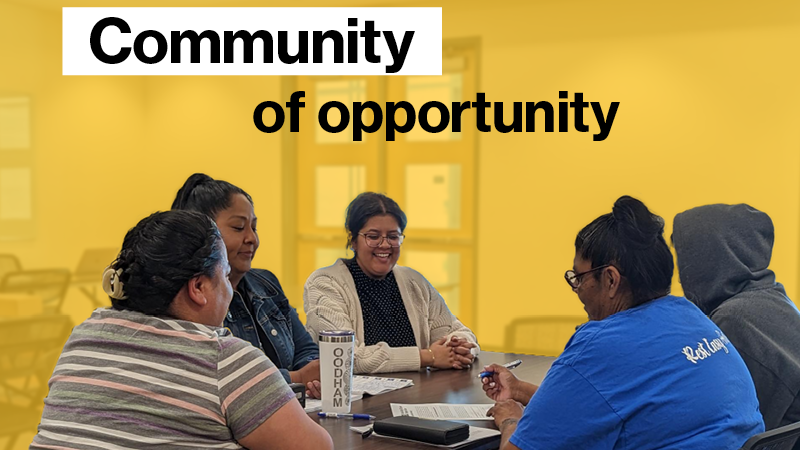 The Indian Legal Clinic continued its estate planning outreach for tribal citizens by providing five wills clinics over the 2022-2023 academic year. Clinic students assisted clients with the preparation of Indian wills and powers of attorney that conform to the requirements of federal, tribal, and state law. This year, they traveled five times and served four Tribal communities: the Pechanga Band of Indians in Temecula Valley in September and March, the Quechan Indian Tribe in Winterhaven, California in December, the Mashantucket Pequot Tribal Nation in Mashantucket, Connecticut in March, and the Gila River Indian Community in Lower San Tan Village, Arizona in March.
During a Wills and Probate Clinic
Student attorneys meet with clients one-on-one on the first day to learn the client's estate planning wishes. Students explain to the client their options under the American Indian Probate Reform Act and under tribal and state law, and then help the client finalize their choices.
After the meetings for the day are over, the students draft the estate planning documents for the rest of the afternoon and into the evening. The documents prepared include wills and health care powers of attorney.
The next morning, the students meet with their clients again to go over the prepared documents to make sure the will and power of attorney reflect what the client asked for.
When the client is satisfied that the documents represent what they want, the client executes the documents before witnesses and notaries, meaning that the client leaves with finished legal documents.
Because the hours are long, students are usually tired by the end but also filled with a sense of accomplishment from handling what are often their first clients.
"One of my clients thought she wouldn't be able to make certain critical decisions, but I was able to help her settle on what she wanted," said student attorney Sukhleen Bahl (3L). "She was very happy when she left with a completed will and health care power of attorney."
Tribal clients are also usually very happy to have a settled estate plan, sometimes first in their family to have one. They share their positive experience with family and friends, thus creating increased demand for the students' estate planning services.
Advancing public service in Tribal Communities
11 students over the two semesters drafted 60 wills and 56 health care powers of attorney. Students during the fall semester – Samir Grover (2L), Erin Jenkins (2L), Courtney Kamauoha (3L), Molly Lathrop (3L), Julia Weiss (2L) and Joe Wilwerding (2L) – drafted 28 wills and 29 powers of attorney. Spring semester students – Sukhleen Bal (3L), Sierra Porritt (2L), Devorah Kalani (LLM), Christina Bustamante (2L), Hannah Dunham (3L) and returning veterans Kamauoha and Lathrop – drafted 32 wills and 27 powers of attorney.
In addition to helping clients with their estate plans through wills clinics, students also handle probate and estate administration cases. These are cases that are heard in Tribal court, before the Office of Hearing and Appeals (for AIPRA cases), and in State court. While assisting with their clients' estate needs, student attorneys are exposed to a variety of issues: assisting a client with becoming a personal representative so the client can settle a loved one's estate, helping a family distribute estate property in a way that is in keeping with the family's cultural values versus the state's intestacy plan, protecting inheritance rights, and settling claims with creditors.
"The wills clinics opened my eyes to the large need for those who know how to draft Indian wills to keep Native lands in the hands of the people to which they belong," said Courtney Kamauoha (3L).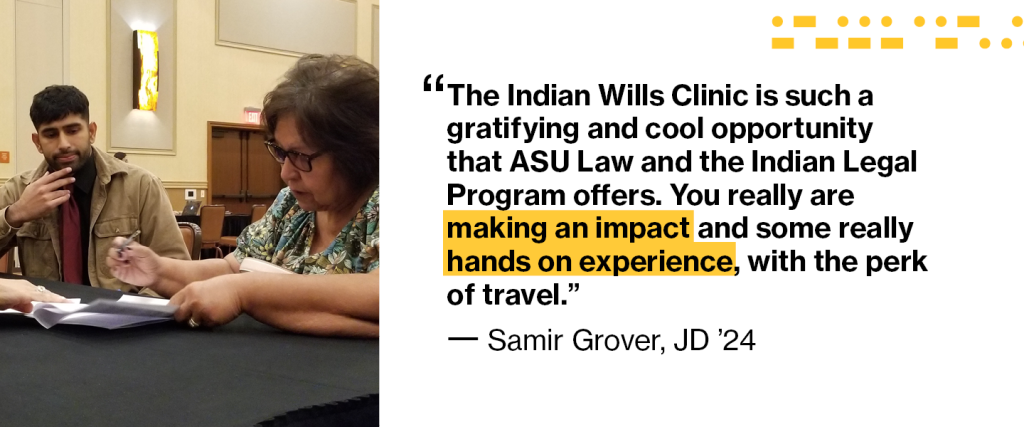 Enrolled in the Indian Wills and Probate clinic, ILP student Samir Grover (2L) enjoyed Professor Burtis's class that he found intellectually challenging and motivating. "The client experience was incredibly rewarding and provided me with practical knowledge," said Grover. "Professor Burtis ensures that the class sessions provide a baseline in Indian Law, Estates, and its interaction with AIPRA. She makes sure that student attorneys are fully prepared to meet with clients for drafting wills and we approach every case with not just knowledge but understanding on how to effectively interact and understandingly interact with clients, mostly elders, when helping them through a really significant and important process in advising them and drafting Indian Wills. My favorite part of the class was travelling to Pechanga and Quechan and meeting some amazing clients that it felt so gratifying to help in creating wills and ensuring their estates are protected according to their wishes. The Indian Wills Clinic is such a gratifying and cool opportunity that ASU Law and the Indian Legal Program offers. You really are making an impact and some really hands on experience, with the perk of travel."
By providing an important service to tribal citizens who often have difficulty finding someone to represent them with estates that can encompass the three jurisdictions, students gain meaningful experience, a sense of purpose, and an opportunity to work in a variety of circumstances.