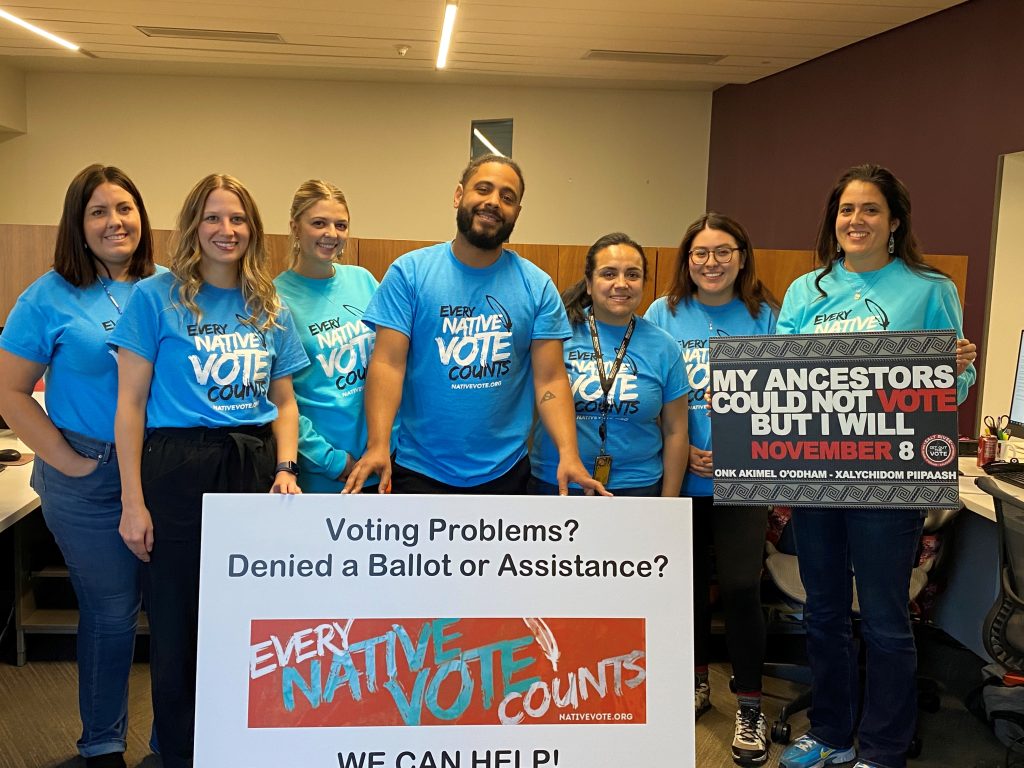 2022 is another year that has seen Arizona Native voters and their rights disproportionally challenged on the ballot. "Native advocates say voter ID rules in Proposition 309 could disenfranchise Arizona Indigenous voters," said Native Vote fellow Torey Dolan ('19) in her interview with the AZ Central. The article discusses the impact that Proposition 309 will have on Tribal communities if passed. Proposition 309 would limit the forms of identification that are acceptable for in-person voting and would eliminate many forms of Tribal identification that voters currently rely on.
Despite this ballot measure and redistricting issues, the Indian Legal Clinic's Native Vote Election Protection team organized and strategized with its partners to remain steadfast leading up to Election Day. Dolan presented at the Tribal leaders meeting hosted by the Inter Tribal Council of Arizona and discussed the propositions' impacts on Tribal communities and Native voters.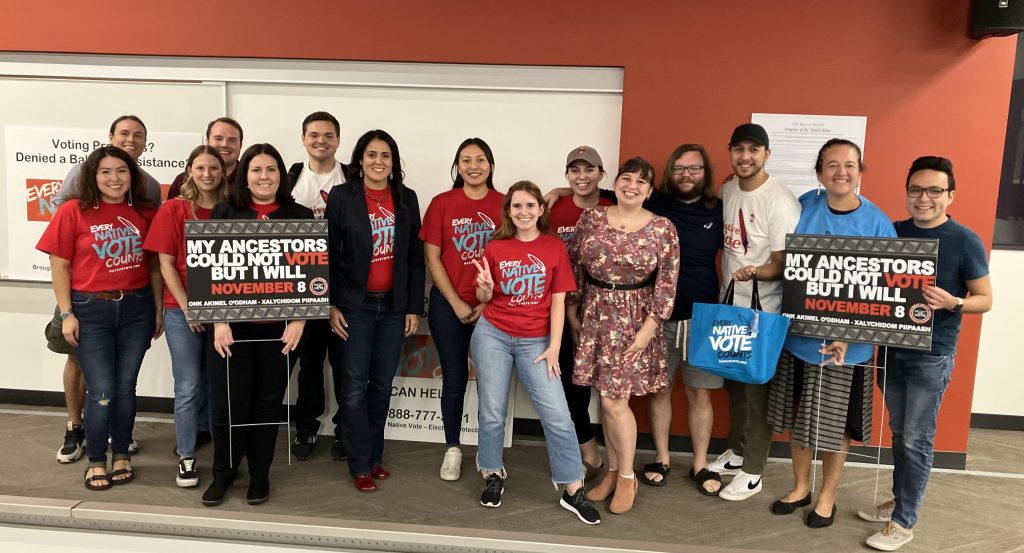 Indian Legal Clinic student attorneys Mallory Moore (3L) and Autumn Shone (3L) led and conducted two trainings for volunteers.
This year, 66 volunteers served as Election Protectors stationed at multiple polling locations to assist voters at 9 Tribal communities: the Ak-Chin Indian Community, the Fort McDowell Yavapai Nation, the Gila River Indian Community, the Navajo Nation, the Pascua Yaqui Tribe, the Salt River Pima-Maricopa Indian Community, the San Carlos Apache Tribe, the Tohono O'odham Nation and the White Mountain Apache Tribe.
On Election Day, the Native Vote team worked with the Navajo Nation to assist in emergency litigation due to delays in the opening of a polling location in Many Farms, Arizona. Katherine Belzowski, an attorney with the Navajo Nation Department of Justice Economic and Community Development Unit, said "The Indian Legal Clinic was instrumental to the Navajo Nation's success in the 2022 Election. ILC worked with the Navajo Department of Justice (NDOJ) to monitor state polling locations across the Nation. With ILC's assistance NDOJ was able to timely investigate and respond every concern submitted to the ILC and NDOJ voting hotline."
Thank you to all volunteers, advocates and allies for serving as Election Protectors and organizing the Native Vote power! With your help, we were able to assist voters through the hotline and in the field, ensuring that Native voters were able to cast ballots free from intimidation and without undue challenges. This year's ILC Native Vote leadership team includes dedicated ILP Native Vote Fellows Torey Dolan ('19) and Blair Tarman-Toner ('20), student attorney leads Mallory Moore (3L) and Autumn Shone (3L), and student attorneys Chad Edwards (3L), Brittany Habbart (3L), Michael LaValley (3L), and Ruben Zendejas (3L), under the supervision of Professor Patty Ferguson-Bohnee.