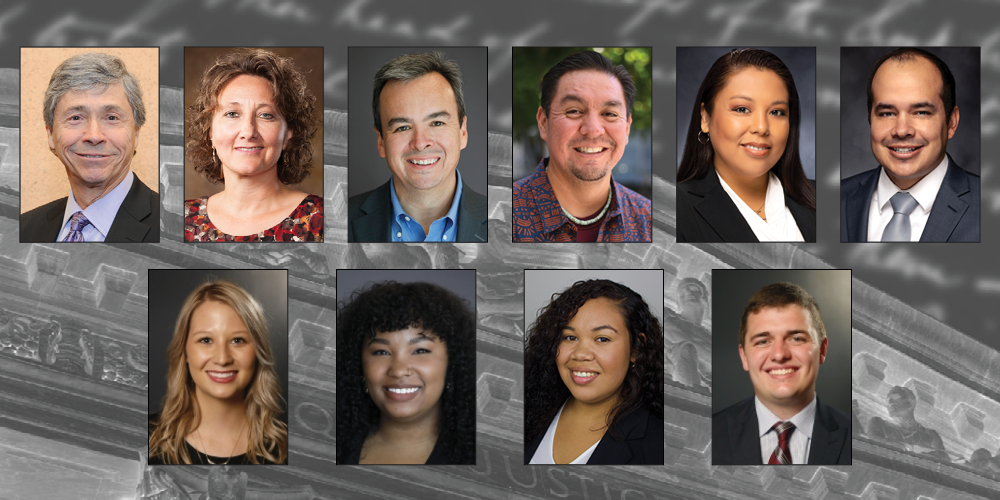 On July 9, 2020, the Supreme Court issued its decision in McGirt v. Oklahoma and affirmed that the Muscogee Creek Nation's reservation was never disestablished. The majority opinion strongly affirmed what Native people have known: Treaty rights are the Supreme Law of the land and do not fade with time. This historic decision is a strong vindication of the Muscogee Creek Nation's treaty and a promising decision for all treaties. 
In their 2L year, Dylan West (Choctaw) and Blair Tarman (Chickasaw) assisted Professor Stacy Leeds (Cherokee) on the Cherokee Nation's amicus brief.  Read the amicus brief on behalf of Cherokee here. Professor Leeds was the Salt River Pima-Maricopa Indian Community distinguished visiting Indian Law professor at ASU Law during Fall 2019 semester and taught Federal Indian law. 
From this monumental and victorious decision, people of the ILP quickly took action and poured their energy into their work.
In his interview with the Voice of America (VOA) News, Professor Robert Miller (Eastern Shawnee) stated, "The Court is upholding this 1832 treaty that the Creek Nation signed with the United States, and is holding the United States to those promises." Watch full video here. Miller also presented, "McGirt v. Oklahoma: Understanding the Decision and its Implications for Indian Country" for the Oregon Historical Society. Watch Miller's presentation  here.
Professor Larry Roberts (Oneida) said, "today's decision is a significant win for the Muscogee (Creek) Nation and for Tribal Nations across the country. With the Muscogee (Creek) Nation facing opposition from the Trump Administration, this Court made clear that treaties mean something – that they are the supreme law of the land," in his article for ASU's American Indian Policy Institute blog. Read blog more here.
"This opinion was not given without opposition, nor does it bar Congress from breaking the treaties in the future," said rising 2L Taylor Norman (Muscogee Creek). "What it does mean, however, is that rather than kneel to lazy reasoning or racist objection, the Supreme Court of the United States did not break any treaties today." Read Norman's full piece here. 
Joe Keene ('12) (Osage) and Candace French ('17) (Wichita and Affiliated Tribes) recently published an article for Sacks Tierney P.A. summarizing the McGirt case. Read the article here.
The McGirt decision sparked many conversations across Indian Country and to help bring further awareness and understanding, the Indian Legal Program hosted a case overview. "The most significant Indian Law case of the century: McGirt v. Oklahoma" webinar was held on Thursday, July 23.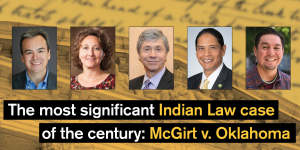 Professor Larry Roberts (Oneida) – Moderator, Executive Director of the Indian Gaming and Tribal Self-Governance Program and Professor of Practice at the Sandra Day O'Connor College of Law 
Stacy Leeds (Cherokee) – Vice Chancellor for Economic Development, Dean Emeritus and Professor of Law at the University of Arkansas 
Professor Robert Miller (Eastern Shawnee) – Faculty Director, Rosette LLP American Indian Economic Development Program and Pedrick Distinguished Research Scholar at the Sandra Day O'Connor College of Law 
Jonodev Chaudhuri (Muscogee Creek Nation) – Ambassador, Muscogee Creek Nation, Partner, Quarles & Brady 
Derrick Beetso ('10) (Navajo) – General Counsel, National Congress of American Indian
In November, 1L Ashleigh Fixico (Muscogee Creek Nation) presented on a panel "We Hold the Government to Its Word: A Conversation about McGirt v. Oklahoma." 
Since the McGirt decision, ILP's Federal Indian law experts Professor Leeds and Professor Miller have been called for consultation. 
Three weeks after the McGirt decision, Leeds was appointed a judge for the Muscogee (Creek) Nation—the tribe whose boundaries were affirmed in the decision—and continues to hear cases there throughout the year. She also published two articles about the McGirt decision, one dealing with Supreme Court trends and one dealing with Indian taxation.
Professor Miller who not only published his articles, also presented multiple times. Review the full list of his participation here.
This opinion was released during great strife due to the COVID-19 pandemic and continuing racial injustice, but it has brought renewed hope that in this modern era of self-determination for Indian Country the courts will continue to vindicate the rights our ancestors thoughtfully secured for us.