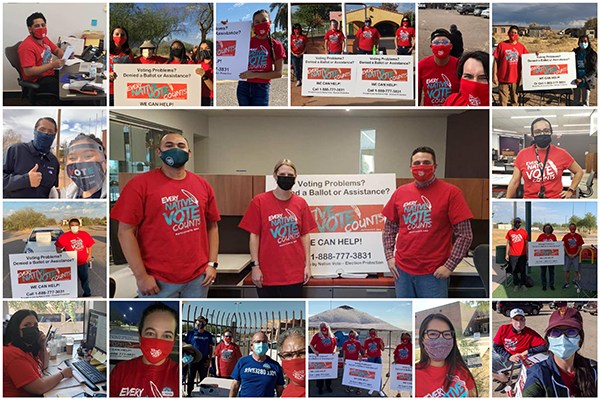 The Indian Legal Clinic student attorneys, ILP affiliates and volunteers worked on the Arizona Native Vote Election Protection Project (AZNVEP) for months to prepare for the general election on Nov. 3. The number of this year's Election Protection volunteers made for a great success despite the circumstances! We had 100 volunteers, which is more than in past years, who assisted Native voters at over 60 polling locations in Arizona on Election Day through the Arizona Native Vote Election Protection Project. The ILC team included Native Vote Fellow Torey Dolan ('19) as lead, Brendan Clark (3L), Aspen Miller (3L), Dustin Rector (3L), MacArthur Stant (3L),and Blair Tarman (3L) under the supervision of Professor Patty Ferguson-Bohnee. Student attorneys provided virtual training sessions for volunteers, ran the hotline and interacted with voters on-site.

Through partnerships with the Inter Tribal Council of Arizona (ITCA), the Native American Bar Association of Arizona (NABA-AZ), the Arizona Election Protection Coalition and volunteers, Native Vote served as an important resource for hundreds of Native voters during the 2020 election. Over 250 Native American voters called the Native Vote Election Protection hotline for assistance on Election Day, and many voters called prior to the election to check voter registration and polling locations, and answered questions regarding general election information.  

With the extraordinary commitment from volunteers—ILP students, alumni, faculty, staff and friends—an Election Protection volunteer was on-site and available at the following locations: Navajo Nation, Hopi Tribe, Salt River Pima Maricopa Indian Community, Gila River Indian Community, Tohono O'odham Nation, White Mountain Apache, San Carlos Apache, Pascua Yaqui, Yavapai Apache, Yavapai Prescott, Quechan, Cocopah Indian Tribe, Colorado River Indian Tribes, Fort McDowell Yavapai Nation, and the Ak-Chin Indian Community. 
We thank our ASU community for the support, which released the ASU Now article on election day that highlighted the greater work of Native Vote as well as the innovative Polling Locator Tool created just this year with US Digital Response. Watch the video  to see how this tool was used by Native voters.

Two of our ILC students Miller and Stant who traveled to Hopi and Navajo Nation were highlighted in an Arizona Republic article. 

Ferguson-Bohnee was quoted in the Center for Public Integrity article and Arizona Republic articles here and here. 

On Nov. 11, Dolan was interviewed by Native America Calling to give a recap about Native Vote. She was also quoted in The State Press articles here and here. 

Find more coverage from Ferguson-Bohnee, Dolan and Brian Garcia ('20) in this VICE article, which included Arizona Native Vote assisting with extension hours to a polling site. 

We appreciate our partners and all who volunteered across Indian Country to ensure Arizona's tribal communities and tribal members had access to the polls!