Connecting Indigenous Scholars across ASU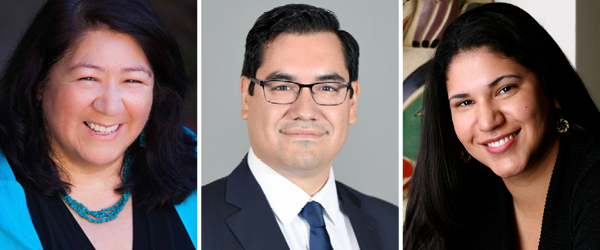 For several years now, ASU's Indigenous Research Roundtable (IRR) has connected Indigenous scholars and allies through a monthly seminar featuring new, cutting-edge scholarship conducted with, by and for Indigenous communities. The IRR was originally organized by Dr. Angela Gonzales from ASU's School of Social Transformation and hosted at Tempe campus. As the ASU Downtown campus has grown to include numerous ASU colleges, schools and programs serving Indian Country—including Social Work, Journalism, Health Sciences, Law and many others—the IRR is, for the first time, being hosted by two downtown campus Indigenous faculty, ASU Law Professor Trevor Reed and School of Social Work Professor Felicia Mitchell.
"As a new faculty member at ASU, IRR provided me opportunities to meet and connect with Indigenous scholars and allies across ASU," said Professor Mitchell. "The IRR has also been a supportive space to highlight the important work my colleagues and I are involved in throughout Indian Country."

In the fall semester, the IRR featured two thought-provoking presentations showcasing the diversity of Indigenous research happening at ASU. On Nov. 4, Professors David Manuel-Navarrete and Tod D. Swanson shared their experiences establishing a new field school in partnership with Tribes in the Ecuadorian Amazon. The field school educates university students from around the world about Kichwa approaches to climate science and biodiversity while also providing a stream of sustainable income for Kichwa peoples. On Dec. 9, Professor Matt Ignacio presented the results of his groundbreaking study of harm-reduction interventions aimed at Indigenous youth who may be at risk for alcohol and other drug use. Then on Jan. 27, School of Social Work Professor Shanondora Billiot shared her research on the effects of land-based healing programs on the mental health and wellbeing of Indigenous communities in Louisiana. Ending the roundtable sessions for the academic year,  Professor Robert J. Miller presented his current research on the landmark Supreme Court decision in McGirt v. Oklahoma on March 24. 
For more information about the Indigenous Research Roundtable or to participate in a roundtable next year, please contact Professor Reed at t.reed@asu.edu.