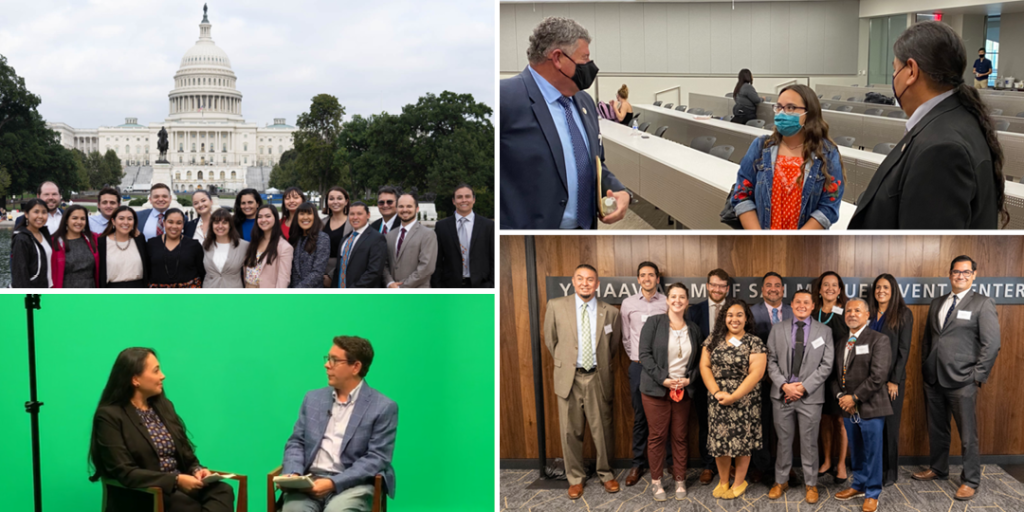 The Indian Gaming and Tribal Self-Governance Programs ("Programs") at ASU Law had a successful academic year and we congratulate all the 2022 Master of Laws (LLM) and Master of Legal Studies (MLS) graduates.
In August, the Programs welcomed its current director, Derrick Beetso, a 2010 graduate of the Indian Legal Program (ILP). Beetso is a member of the Navajo Nation who previously served as general counsel for the National Congress of American Indians where he co-directed the Tribal Supreme Court Project alongside colleagues at the Native American Rights Fund, and before that he served as attorney-advisor for the Western Region of the Bureau of Indian Affairs and the BIA's San Carlos Irrigation Project. He brings with him a wealth of knowledge working in and around federal Indian law and policy and said, "the Indian Gaming and Tribal Self-Governance Programs provide practical learning opportunities for all law students, whether they seek a JD, LLM, or MLS degree, and I'm so proud to help guide how the Programs engage with and respond to Native communities in Arizona and throughout the Nation. It has been a pleasure to work with the ILP team to help realize the professional goals of such a dynamic cohort of students dedicated to improving the lives and well-being of Indian Country."
Two faculty associates also joined ASU Law's Indian Gaming and Tribal Self-Governance Programs: Jay Spaan, a citizen of the Cherokee Nation, taught Tribal Self-Governance I and Tribal Self-Governance II, and Michael Hoenig taught Indian Gaming I and Indian Gaming II. Faculty Associates Paul Spruhan taught Civil Jurisdiction in Indian Country and Helen Burtis ('07) taught American Indian Law.
MLS student Roicia Banks enjoyed Professor Spruhan's class. "I appreciated Professor Spruhan's extensive knowledge of Federal Indian Law," Banks said. "But it was more important to me that as a man married to a tribal member, Professor Spruhan was very respectful, woke, and straight forward."
"As a member of a federally recognized tribe, I took many of the deciding court cases that shaped federal Indian law personally in that I felt it was my duty to understand the past to better understand where we are today," Richard Picard (MLS '22) said. "Professor Burtis ensured that all relevant Indian law topics were covered thoroughly and that they were understood as clearly and easily as possible."
Francisco Olea (LLM '22) worked for Professor Hoenig in 2016 during his internship with the National Indian Gaming Commission in Washington, D.C. and six years later, Olea was glad to be enrolled in his online Indian Gaming II class.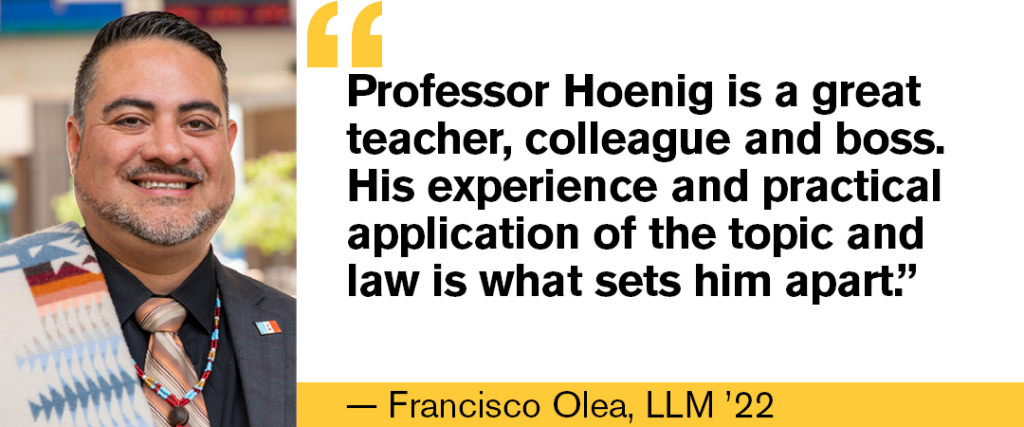 In September, in partnership with ASU Law's Allan "Bud" Selig Sports Law and Business Program, the Programs hosted a timely webinar entitled "Betting on Arizona: the Future of Indian Gaming and Sports Betting in Arizona." The webinar was well attended and featured key attorneys that represented Arizona Indian tribes in negotiating recent compacts and state legislation allowing Arizona's tribes to participate in the State's recent sports wagering operation directed by the Arizona Gaming Commission. The rollout of sports wagering in Arizona last year has brought many instances of first impression and the Programs' students and staff are at the forefront of thinking through various issues presented and helping envision what the future holds for tribes in this area nationally. Beetso has provided regular commentary to gaming publications on recent sports wagering developments; updated the Arizona Indian Gaming Association on current legal and policy issues; and helped moderate a sports betting panel for the Federal Bar Association's D.C. Indian Law Conference and the ILP's Wiring the Rez conference.
In October, Beetso taught his first course, Federal Advocacy for the Tribal Client, the ILP's traveling class at ASU's Washington, D.C. campus during the fall semester break. The course is designed to instruct students on the basic principles behind effective advocacy before federal agencies, Congress, and the Supreme Court.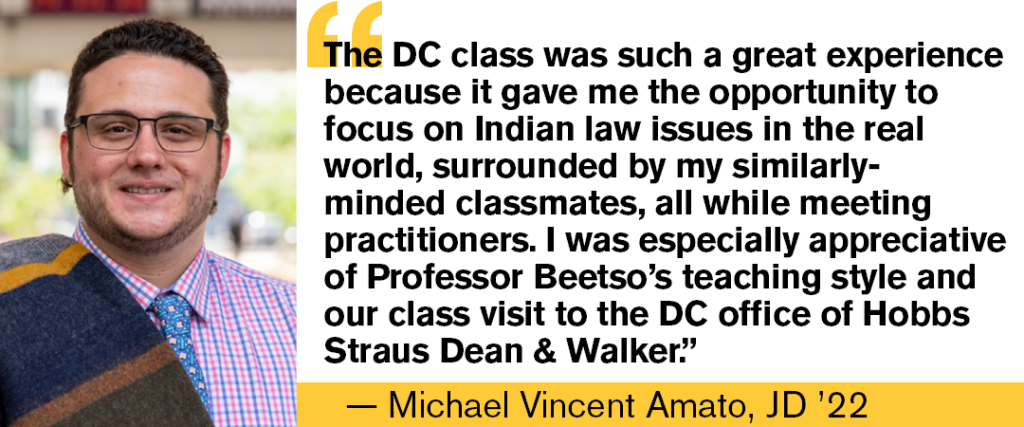 Students had the opportunity to engage with professionals, congressional staff, and administrative officials to better understand how federal Indian law and policy is shaped and implemented. While in town, the students also had time to tour the Nation's Capitol and make professional connections with practicing attorneys during networking opportunities.
In November, the Programs had the pleasure of attending the ribbon cutting ceremony for the newly opened Yuhaaviatam of San Manuel Event Center within ASU's California Center in downtown Los Angeles at the historic Herald Examiner Building. The Programs accompanied ILP faculty, the ILP's esteemed Salt River Scholars, law school leadership, and representatives from the office of ASU President Michael Crow to celebrate this momentous occasion and important partnership with the San Manuel Band of Mission Indians. The Band has donated generously to the law school's endeavors to increase its impact in the Los Angeles area and to provide meaningful and practical education opportunities for Native students interested in furthering Indian gaming and tribal self-governance. The Programs are currently planning a community teaching event, to be held at the Yuhaaviatam of San Manuel Event Center this summer, which will showcase the exciting work our students are engaged in, the talent of the law school's faculty, and the partnerships and community building efforts made possible by substantial investments from the San Manuel Band of Mission Indians, the Shakopee Mdewakanton Sioux Community, the Mohegan Tribe, and other important donors.
Finally, the Programs were honored to host a lunch lecture with Tribal leaders from the Alabama-Coushatta Tribe of Texas to share their unique history and the relevance of the Tribe's bingo operation to its self-governance. The Alabama-Coushatta Tribe and its bingo operation await a decision from the Supreme Court on a case, Ysleta del Sur Pueblo v. Texas, that will have a direct impact on their self-governance.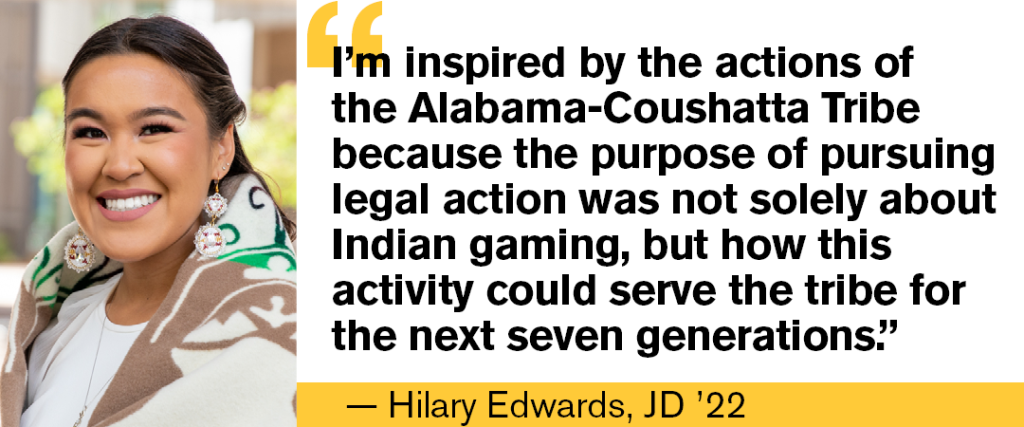 The Tribe shared its role in the current litigation before the Court and spoke with students about their interest in Indian gaming and the case specifically. Oral arguments in Ysleta del Sur Pueblo v. Texas were held February 22, 2022 and a decision from the Court is expected soon. The Programs hope to invite tribal leadership from both the Alabama-Coushatta Tribe of Texas and Ysleta Del Sur Pueblo back once the Court's opinion is published.