Indian Country's representation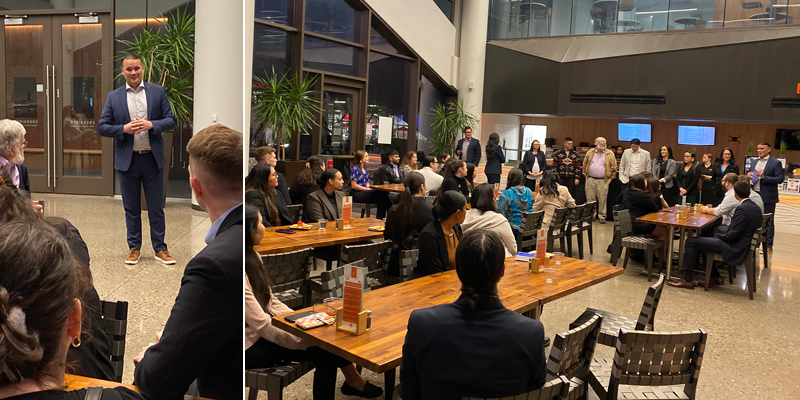 On Jan. 10, the Indian Legal Program hosted a special dinner for students to meet Bryan Newland, Assistant Secretary for Indian Affairs in the Department of the Interior. A full year of serving in a prominent position, Assistant Secretary Newland leans on his experiences and centers tribal community as part of the strategy. He understands the challenges Tribes face and the importance of ensuring Indigenous People are protected, included and represented at every level, for every decision.

We were also joined by Secretary Newland's team who share that vision: Rose Petoskey, Joaquin Gallegos, Stephanie Sfiridis ('16), Sam Kohn, Senior-Counselor to the Assistant Secretary-Indian Affairs and Katherine Isom-Clause, Deputy Assistant Secretary for Policy and Economic Development, as well as Shannon Estenoz, Assistant Secretary for Fish and Wildlife and Parks and Steve Simpson, Senior Attorney with the Solicitor's Office. ILP students learned about the work the Department of Interior does on behalf of Tribes and how hard each have worked to be in a position where they can drive change.

"Having Assistant Secretary Bryan Newland and his team visit was such an honor," said 2L Sophie Staires. "What struck me about all of them was the genuine interest they showed in all of us students—who we are, and what we want to do. Talking with them made it easier for me to picture myself in those roles, and I really needed that. Assistant Secretary Newland really impressed upon me that I am right where I need to be, that I am capable and that I will get to where I want to be."

"It was nice to know that even though law school can be a real challenge sometimes, the opportunities to do great things for Indian Country outweighs that," said 2L Chelsi Tsosie. "It was quite motivating to relate to someone in a position as high as his."

Thank you to the Department of the Interior for this special visit. We appreciate all that you do for Indian Country!