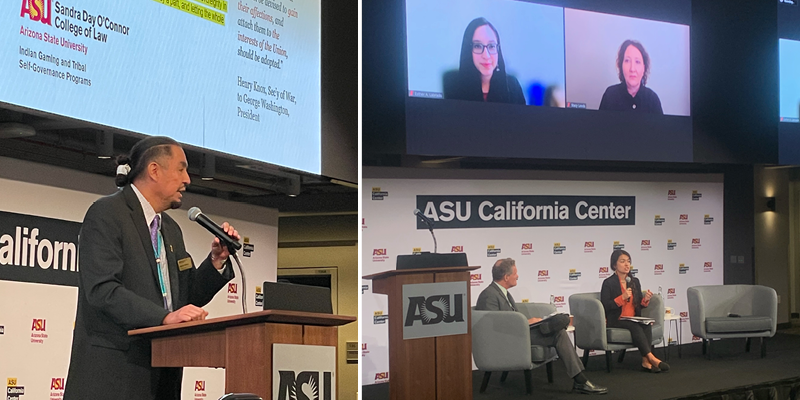 On June 23, the Indian Gaming and Tribal Self-Governance programs traveled to ASU's California Center in downtown Los Angeles to present "Indian Law and Policy Now." The community education event was held in the Yuhaaviatam of San Manuel Event Center and co-hosted by the programs and the Academy for Justice. We were delighted that Business Council Member at-large Laurena Bolden, of the San Manuel Band of Mission Indians, was able to provide opening remarks and a blessing to begin the event.

The morning session was hosted by ASU Law Director Derrick Beetso ('10) who presented on the "Foundations of Federal Indian Law and Policy" to help set the stage for the day's discussion. This was followed by a dynamic panel, VAWA 2022: How We Got Here & Where We Came From. The panel was moderated by Academy for Justice Founder and FacultyDirector Erik Luna and panelists included Stacy Leeds , ASU's Law's Foundation Professor of Law and Leadership; Lauren Van Schilfgaarde, UCLA's San Manuel Band of Mission Indians Tribal Legal Development Clinic director; and Esther Labrado, attorney at Drummond Woodsum. 

This fascinating discussion tracked the history leading up to the historic tribal provisions in the 2013 Reauthorization of VAWA and the more recent expansions of those key provisions in the 2022 Reauthorization of VAWA which were passed and signed into law earlier this year.

The afternoon session closed with Director Beetso and two ILP Salt River Scholars, Noah Goldenberg (3L) and Sophie Staires (2L), summarizing recent proposals by the Bureau of Indian Affairs (BIA) affecting Indian lands and tribal gaming compacts. The BIA has hosted a series of consultations on these proposals and solicited comments from Indian tribes on a number of specific questions. Beetso, Goldenberg, and Staires provided important context for the recent actions, explained the consultation process, and provided broad responses and thoughts to many of the questions proposed by the BIA. 

This event was made possible with the generous support of the San Manuel Band of Mission Indians, the Mohegan Tribe, the Shakopee Mdewakanton Sioux Community, and others.