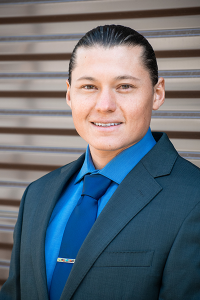 David Streamer, JD Candidate 2022
Indian Legal Program, Sandra Day O'Connor College of Law at Arizona State University

David Streamer is a second-year law student from the Los Coyotes Band of Cahuilla and Cupeno Indians in Southern California. David was elected to serve his tribe as a tribal council member in 2018 and re-elected in 2019.
Deeply rooted
Born in his home on the reservation, David continues to serve his tribe while attending ASU Law, with his sole focus on making a positive impact in his community. He ran for council because he thinks young people need to step up and help be a bridge for reservation families. Wanting to create something special in the community for everyone, David is diving into his ASU Law classes as part of the college's nationally recognized Indian Legal Program. He says ASU Law's faculty and courses are teaching him how to better serve his tribal government so that he can apply these skills immediately.
Forging ahead
With the past year particularly challenging for David's community due to the pandemic and power outages, he worked together with the tribe to apply for grants and find resources to help families cover basic needs. Hoping to serve his tribe for many years, David wants to help create more tribally owned and operated businesses and help the youth with educational assistance. It is important to David that young people finish high school and go to college.
Community building
Recently in David's personal capacity, he decided to go out and grade every family's driveway in the community. When asked why he did that, he said because people needed it done, and he had time and wanted to help. His heart is on the reservation and in giving back to his tribal members so that they thrive as a community.
David was selected as ASU Law's nominee for The National Jurist magazine's 2021 Law Student of the Year recognition. David is a thoughtful tribal leader who has harnessed the power of good for his community. Attending law school is a significant commitment and David's dedication to his law career and tribal community deserves to be celebrated.