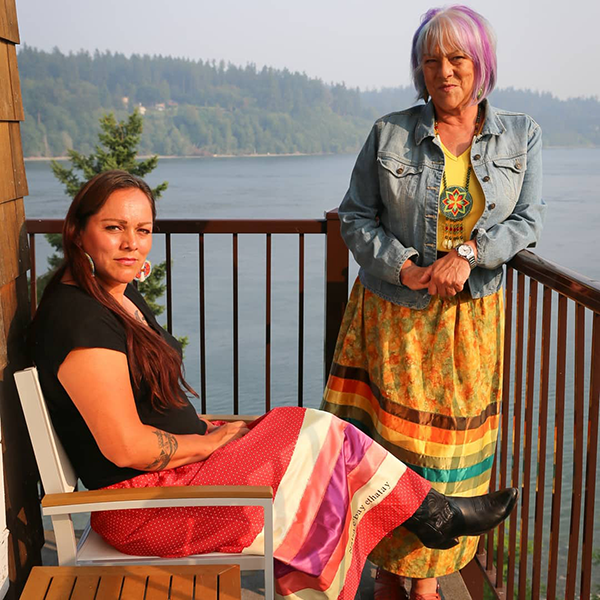 LynDee Wells ('89, Gros Ventre/Chippewa) works as a tribal attorney for the Suquamish Tribe, a position she has held for eight years.

"This part of my journey has been extremely satisfying – I am excited to come to work each day, truly enjoy everyone that I work with and for, and feel that I've made a contribution," Wells said. "But I'm 67 years old now, thinking it might be time to slow down a bit!"

After retiring in 2010, Wells was invited to work on a one-year project for Suquamish, which moved all Suquamish's fee lands into trust status.

"We successfully returned over 35% of the reservation to tribal trust and continue to acquire and repatriate the Suquamish people's homeland," Wells said. "Instead of a one-year project, I've now been here eight years working on 'nation building' projects."

After Wells graduated from the ILP in 1989, she clerked for Chief Justice Frank Gordon with the Arizona Supreme Court. From 1990 to 2011, she worked in private practice representing tribal governments and entities doing business with tribes. First, she worked with Winthrop and Stimson as an associate in their D.C. offices. She then with Dorsey & Whitney as a partner.

"The issues I worked on were very diverse — from helping the Elwha Tribe secure legislation that resulted in the successful removal of two dams that had blocked 72 miles of salmon habitat, to helping finance large economic development projects for tribal governments," Wells said. "When I decided to go to law school, I thought I'd be working on treaty-related issues. I never dreamed that I would be working on multimillion-dollar economic development projects!"

Wells now lives in Washington with nine family members in the house she built in Suquamish last year. She has raised three children and two grandchildren throughout her career.

"It is difficult to remember to strike that work-life balance, but it is worth it," Wells said.

Q: What is the most valuable lesson you learned in the classroom that has helped you in your career?

A: Analytical and critical thinking and getting outside my comfort zone. Law school was the first time I had any experience outside of Indian Country. Classroom experiences were scary at first — first semester I thought I'd been hit with the stupid stick because all of my classmates were so smart! I had to learn to be more assertive and engage with others who had life experiences so different from mine. Several professors were instrumental in this learning — Professors Michal and Rebecca Birch, Professor Charles Calleros, many, many others and especially Dean Paul Bender.

Q:Is there anything you've learned after graduating that you wished you learned in class?

A: Of course learning and applying what you've learned are two very different animals. I think the grounding in solid legal writing and analysis are the most important tools I learned in law school. The substantive elements of the practice of law learned in the classroom are of course important (thank you Professor Calleros for the starting blocks underlying my ability to practice contract law), but I believe the practice of law is often learn as you grow.

Q: What is your advice for current students?

A: Don't start your career working for your own tribe. Get as many diverse experiences as you can and bring that knowledge home.