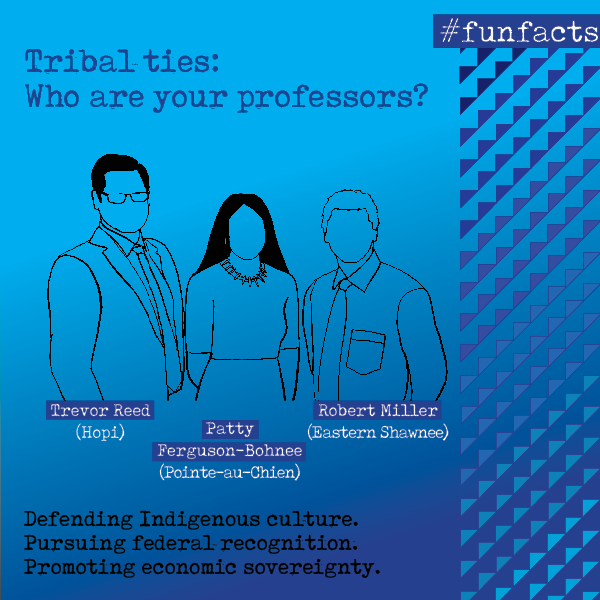 We are so much stronger when we know effective work is being done so close to home and our ILP faculty are truly instrumental in their work and with their tribes.
Professor Patty Ferguson-Bohnee (Pointe-au-Chien) has been advocating for her tribe to be federally recognized for years.

Beside the 573 federally recognized tribes, Pointe-au-Chien is one of the nearly 300 who have not been permitted that status according to federal criteria. Federal recognition allows for self-government and other permits that are restricted from federally unrecognized tribes.

Ferguson-Bohnee is featured in an MSNBC video that discusses the need for tribal recognition, which Pointe-au-Chien has been pursuing for over 20 years. Watch the full video here.

In The Eastern Shawnee Tribe of Oklahoma: Resilience through Adversity, Professor Robert Miller (Eastern Shawnee) wrote the chapter, "Tribal, Federal, and State Laws Impacting the Eastern Shawnee Tribe, 1812 to 1945," in which he discussed the legal and constitutional history of his tribe.

Despite the distinct laws that separated the Eastern Shawnee Tribe into at least five separate nations in the 18th century, the Mixed Band of Senecas and Shawnees "operated under established governmental leaders, laws, governing mechanisms and traditional practices" in the early 19th century.

While going through the history when the U.S. government began to take over, Miller notes every important legal development and act made by the tribal governments and the federal government that has been recorded.

"The Eastern Shawnee Tribe has governed itself and its people since time immemorial," Miller said in his chapter. "The Eastern Shawnee people are citizens of three political entities: the United States, the states in which they are domiciled and the Eastern Shawnee Tribe. The Eastern Shawnee nation continues today to exercise its inherent sovereign powers and to govern its territory, its citizens and all who enter its jurisdiction."

Professor Trevor Reed (Hopi) has conducted extensive research about his tribe's struggle to reclaim culture from museums, archives, universities, government institutions, and more.
In his upcoming publication Reclaiming Ownership of the Indigenous Voice: The Hopi Music Repatriation Project in the Oxford Handbook of Musical Repatriation, Reed discusses his efforts to reclaim Hopi ceremonial song recordings and their associated intellectual property rights back to the Hopi Tribe.

In his repatriation work, he poses the following questions: "is repatriation best conceived through an appeal to property principles, or are there other principles of ownership and circulation on which repatriation might be more effectively based? And, if Indigenous principles should be the basis for the ownership and circulation of the archived Indigenous voice, to what extent should repatriating institutions be engaged in Indigenous "community politics" as part of their repatriation efforts?" More on this publication will be coming soon.