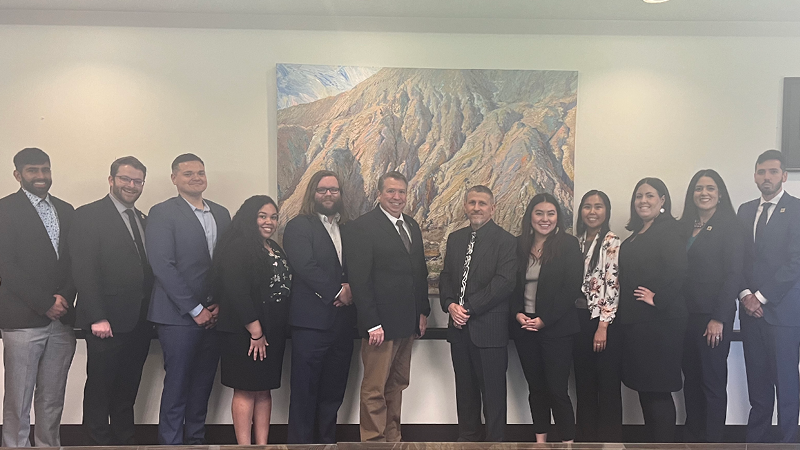 On May 8, the Appellate Advocacy class visited the Arizona Court of Appeals and the chambers of Judge David Gass (JD '94). Students had the opportunity to speak with Judge Gass and Judge Andrew Jacobs about the law, their future aspirations, and working in the judiciary. While in Appellate Advocacy, the students had the opportunity to practice their oral arguments before Judge Gass. Judge Gass provided feedback to students based on his experiences on the bench and from having presided over many appellate oral arguments.
ASU Law students enrolled in the Appellate Advocacy class develop oral and written advocacy skills with the short-term goal of participating in the National Native American Law Students Association Moot Court Competition. The long-term goal is to familiarize students with appellate advocacy through the stages of legal research, writing, and oral argument with emphasis on appellate advocacy for Tribal clients on Federal Indian law or Tribal law issues.
This year's class included Chad Edwards (2L), Ashleigh Fixicio (3L), Noah Goldenberg (3L), Samir Grover (2L), Clayton Kinsey (2L), Ryan Maxey (3L), Autumn Shone (3L) and Chanel Simon (3L).
Thank you to Judge Gass and Judge Jacobs for taking the time to work with our students, teach them about the Arizona court of Appeals, and show them around the court.