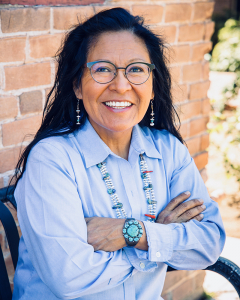 Congratulations to Deborah Ann Begay ('10) for her election to Moon Valley Justice of the Peace. She focused her campaign on restorative justice and community values – k'e – which means kinship in her tribe's language and she believes can be viewed as effective action and solidarity. "If we truly believe in justice for all, then we must take a holistic approach," said Begay. "We need this in our judicial system. It is time for more love, compassion, kindness, friendliness, generosity and peacefulness within our judicial systems."

Begay is a member of the Diné (Navajo) Nation. She is Mexican clan born for the Towering House clan. Her paternal clan is Mountain Cove and her maternal clan is the Bitter Water. She is a proud veteran who served in the U.S. Naval Reserves and will celebrate her 15-year anniversary this summer.

Begay attributes her campaign efforts to her experiences as an ILP student. "The ILP helped shape my vision for community, what it is and what it can be," Begay said. "During law school, I was selected to work on the Navajo Peacemaker's Manual. That experience changed the way I view justice and became part of my restorative justice platform. The other really important aspect of being an ILP student is the aspect of family. The ILP alumni network was a major source of my campaign funding. They contributed thousands of dollars to my campaign." Begay expressed her gratitude to her mother and everyone involved, adding, "My win is a win for Native America."

Her personal message to students: "Stay true to your vision. My goal has always been to serve my community. I did not know what that would look like when I graduated law school. Welcome those experiences that develop your character. Invest in your ILP colleagues because they will become valuable resources for all kinds of good stuff as you each take different career paths."

We are very proud of you, Deborah. Congratulations!