Alexandria Saquella. Alexandria is a JD graduate (2020) at the Sandra Day O'Connor College of Law with a passion for excellence. She is a highly effective communicator and a talented leader with conflict-resolution skills. She was President of the International Law Society during the 2018-2019 academic year.
Murwareed Sulaiman. Murwareed is an MLS graduate (2020) at the Sandra Day O'Connor College of Law with an interest in human rights and international law.
Alexandria and Murwareed are IRLS Fellows for the 2019-2020 academic year.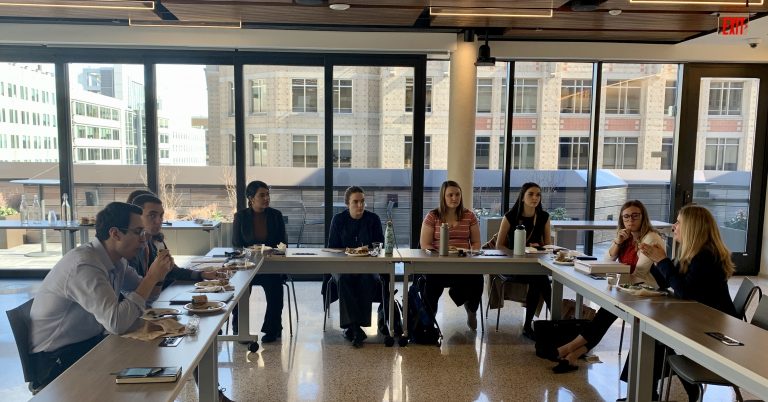 Students taking part in the Sandra Day O'Connor College of Law's Washington, D.C. and International Rule of Law and Security programs had the opportunity to participate in a discussion with Brette Steele, the Director of Prevention and National Security on the Counterterrorism and National Security team at ASU's McCain Institute for International Leadership.
Ms. Steele's background is in the development and implementation of programs for the prevention of domestic terrorism and violence perpetrated by domestic extremist groups. She has developed campaigns to reach people who may harbor sympathies toward extremist groups, but before they themselves take steps to become violent. During our discussion, Ms. Steele stated that one method for reaching high-risk people is to provide a safe place for family and friends to contact without fear of getting their loved ones in trouble with law enforcement. Another approach Ms. Steele identified was creating a practitioner network through which the FBI and other agencies investigating domestic terrorist networks may give referrals to mental health institutions. The practitioner network was created in partnership with experts to share best practices, research, and strategies to prevent hate and targeted violence throughout the United States. The latter of the two approaches already exists and is being used.
Ms. Steele is also optimistic about the potential for a targeted advertising campaign for preventing home-grown domestic terrorism. Through the use of data analytics, this program would target at-risk people—those who conduct internet searches indicating an interest in joining a terrorist group—with advertisements about counseling, support groups, or other mental health services. This effort would be undertaken in coordination with mental health providers along with members of the community in order to provide support to at-risk people.   
Ms. Steele discussed "Peer-to-Peer: Protective Project," an initiative in which university students are empowered to counter extremism and hate through the creation of various forms of media that advocate for change. The program, based on the belief that students have the ability to reach their fellow students by designing effective campaigns that counter extremism and hate, launched in Spring of 2020 across ten universities in the United States. "Peer-to-Peer: Protective Project," is designed to have university teams of students work with a faculty advisor to create a strategy designed to best reach their peers. Examples of past influential campaigns include social media campaigns, campus movements, mobile apps, and videos.
During the discussion, Ms. Steele emphasized the impact that a caring adult can have on vulnerable youth in creating a sense of connectedness. Vulnerable youth often experience gaps in supervision, which can be addressed with after school programs, sports, or other adult-supervised activities that help youth develop a sense of belonging. Steele also recognized that educators, social workers, and mental health specialists are the forces on the ground that have the proper training to help youth in crisis. 
The discussion led by Brette Steele was an excellent opportunity to learn about the intervention programs in place that work to prevent extremism. We look forward to seeing how Ms. Steele's work to develop community-based intervention programs to reach vulnerable groups continues to aid in the prevention of domestic terrorism and violent extremism.