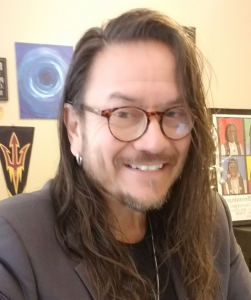 For Richard Breuninger (MLS '13), when his mentor ASU's American Indian Studies Program interim director and associate professor Dr. James Riding In tapped him to teach his course, Sovereignty and the Supreme Court, while he took sabbatical, he didn't hesitate. Breuninger received encouragement from friends and colleagues, and most notably from his girlfriend, fellow Sun Devil and SPED teacher, Megan Pirehpour, who helped him realize his true calling—to be in front of the classroom. 

"There are truly no limits for the future of a student conferring an MLS and especially with an ILP concentration," said Breuninger. "The amount of support from Kate, Ann Marie, Patty, and all the law professors, give one the confidence to support and advocate on a scholarly and top tier level. It has been the ultimate springboard into my EdD doctoral journey, as I am now within one semester of dissertation defense after I found my own voice leveraging and leaning on the degree to put me in the best possible position for the eventual outcome."

Safeguarding education and working together to embolden partnerships is what ILP alums like Breuninger understand. He is a proud Oneida member, a triple Sun Devil and is going into his third year teaching and lecturing as a faculty associate at Arizona State University. His course instruction is undergraduate study but is hopeful to expand teaching graduate studies upon completion of his dissertation defense and conferring his terminal degree. 
This semester, he is teaching undergraduate courses: Sovereignty and the Supreme Court, Federal Indian Policy, and American Indian and Indigenous Film. While teaching remotely, he has been able to bring in guest speakers including ASU Law faculty associate Carl Artman, Gila River Indian Community Governor Stephen Lewis and others to "give pure insight and perspective on subject matter previously not available," he said. Invited to his class, ILP alum and attorney Joe Keene ('12) presented on the McGirt case, its consequences and its impact on Indian law. "I enjoyed the presentation and loved speaking to the college students," said Keene. 

"The students are extremely bright and curious about law school, so I always put the ILP at the mountain top, of course," said Breuninger.

"It is great to see Richard thriving in the classroom," said ILP Faculty Director Patty Ferguson-Bohnee. "Richard is engaged in very important research regarding access to higher education for tribal members. His teaching and scholarship have the potential to help guide future pipeline programs."

He is a thoughtful and committed ally whose inclusive curriculum is positively impacting students. We appreciate you, Richard!
________
Danielle Williams
Program Coordinator, Indian Legal Program, ASU Law