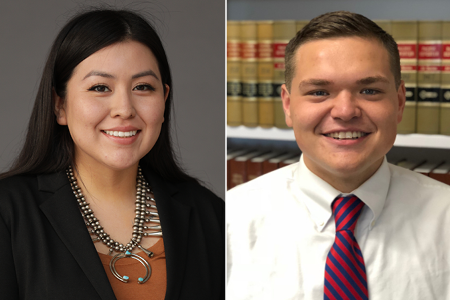 Two ASU Law students in the National Native American Law Students Association (NALSA) – Autumn Shone (2L) and Chad Edwards (2L) – made ILP proud by advancing to the Sweet 16 in the Virtual 30th Annual National NALSA Moot Court Competition Feb. 26-27.

Coached by Professor Stacy Leeds and Native Vote Fellow Torey Dolan ('19), Shone and Edwards briefed and argued important issues regarding Indian religious freedom, treaty rights and property interests.

"It was a great experience to talk about Indian law with two women who have so much knowledge and experience," Shone said. "They encouraged us when it got hard and challenged us when we needed it."

The competition consisted of writing a brief and rounds of virtual oral arguments, of which Shone and Edwards participated in three rounds.

"It was challenging, but I was able to practice my research, writing and oral skills on an important topic that affects Indian country," Shone said.

"The most valuable thing that I learned aside from a better understanding of the legal issues presented in our moot court problem, would be the amount of support that the ILP gives to its students," Edwards said. "I don't think I could have had any better coaches and I felt more than prepared for the competition at all times."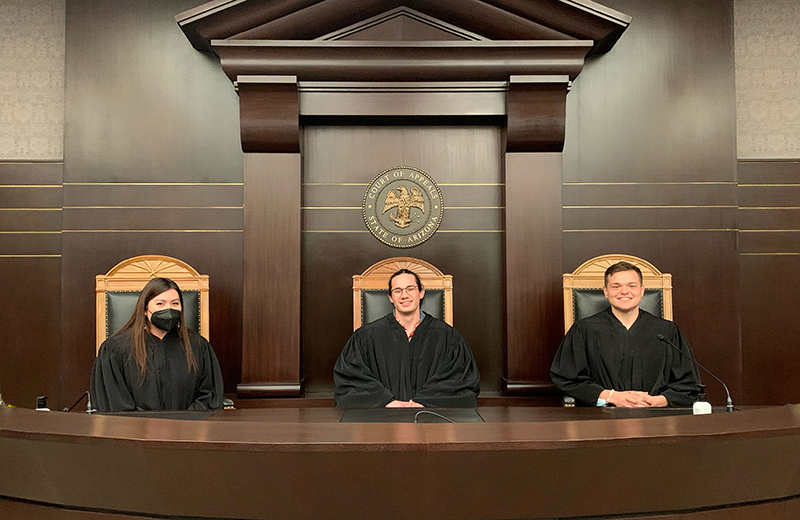 For their final practice, the team held an online session with Judge David B. Gass (JD '94) and Jens Camps ('21). 

"They helped us greatly in our last practice before the competition," Shone said.

After the moot court competition, Shone and Edwards travelled down the street and visited with Judge Gass and Camp.

Thanks to ILP's extensive network of professors, staff, alumni and friends, Shone and Edwards were able to participate in multiple practice rounds with a variety of lawyers and legal professionals before the competition. 

Please join us in congratulating this year's team!