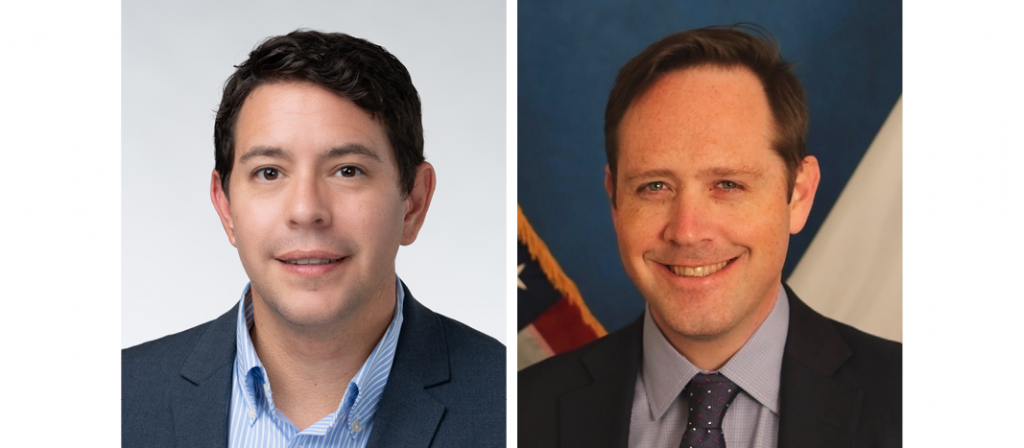 Two new faculty associates bring hands-on expertise to the Indian Gaming and Tribal Self-Governance Master of Legal Studies (MLS) Programs, part of the Indian Legal Program at the Sandra Day O'Connor College of Law at Arizona State University. Jay Spaan, a citizen of the Cherokee Nation, teaches Tribal Self-Governance I, and Michael Hoenig teaches Indian Gaming II.
Jay Spaan on Tribal Self-Governance
"Tribal self-governance is always evolving and its implementation is unique for each Tribal Nation," said Spaan. "We will discuss and learn about the authorizing legislation and regulations, as well as caselaw that provide the framework for self-governance authority, and we will focus on how tribal nations have implemented the authority to best serve their citizens and communities. We also learn about the creative thinking and perseverance of tribal leaders that made self-governance a reality and how that continues to shape the future of self-governance."
Spaan offered important advice for ASU Law students: "Take initiative, push boundaries and think beyond the confines of the current system. Tribal self-governance was an initiative of tribal leaders who were frustrated with the federal-tribal relationship and wanted to see real improvements in the lives of their citizens and communities. Don't be scared to think beyond the boundaries of existing legislative frameworks. Anything is possible."

Spaan is the executive director of the Self-Governance Communication & Education Tribal Consortium. He has more than a decade of experience in program evaluation, primarily as a senior analyst in the U.S. Government Accountability Office's (GAO) Natural Resource and Environment team. Spaan actively sought opportunities to increase American Indian and Alaska Native representation within GAO and brought in numerous speakers to educate its employees on federal trust responsibility, tribal sovereignty and building effective working relationships with Tribal Nations. Spaan earned a master's of jurisprudence in Indian Law from the University of Tulsa and a master's of public affairs from the University of Texas at Dallas.

Michael Hoenig on Indian Gaming
"Indian gaming has had a profoundly positive impact across Indian country," said Hoenig. "It has created needed jobs and provided funding for vital programs and services. It is also one of the most heavily regulated activities, with tribes, states, and various federal agencies all playing a part. It needs people who understand not only how casino operations work, but also all those legal and regulatory requirements. I decided to teach this course so I could share my knowledge and hopefully ensure that there will continue to be people to fill those important roles."
The Indian Gaming II course will provide an in-depth understanding of the legal and regulatory requirements of Indian gaming pursuant to the Indian Gaming Regulatory Act (IGRA), National Indian Gaming Commission (NIGC) regulations and other laws that touch on Indian gaming. "As you study Indian gaming," Hoenig advised students, "keep in mind IGRA's purpose that tribes must be the primary beneficiaries of their gaming."

Hoenig is the general counsel at the NIGC, an independent federal regulatory agency. He provides legal oversight, guidance and assistance to the commission in carrying out its responsibilities under the IGRA. He joined the NIGC as a staff attorney in 2006, became associate general counsel in 2014 and general counsel in 2015. Prior to joining the NIGC, Hoenig served as counsel to Chickasaw Nation Ambassador Charles Blackwell and as counsel to Native Affairs Development Group. Hoenig received his law degree from the Creighton University School of Law and a master of laws in American Indian and Indigenous Law from the University of Tulsa, where he graduated with highest honors.

We are thrilled to welcome Professors Spaan and Hoenig to ASU Law.
"The success of the Indian Gaming and Tribal Self-Governance programs could not be possible without the high-quality learning opportunities offered to its students," said Derrick Beetso ('10), recently named director of the Indian Gaming and Tribal Self-Governance programs. "Professor Spaan and Professor Hoenig bring a wealth of practical experience and subject matter expertise to the programs, and we are delighted that our students are now able to gain insights and lessons from both. We are confident these teachings will serve our students well in their future careers."