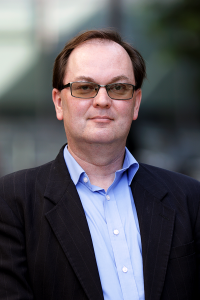 This upcoming summer, the Indian Legal Program (ILP) is expanding the Master of Legal Studies (MLS) program with a new course on civil jurisdiction in Indian Country. Paul Spruhan joins as faculty associate of the Sandra Day O'Connor College of Law. Spruhan is the Assistant Attorney General for the Litigation Unit of the Navajo Nation Department of Justice in Window Rock, Arizona.
This new course compliments the current curriculum offered to ILP students enrolled in the MLS program as it will allow an in-depth and comprehensive study on the foundational laws that have shaped civil jurisdiction in Indian Country today. This course will examine the relationship between the circuit courts and the United States Supreme Court in the development of binding case law that directly impacts the reach and impact of tribal sovereignty.
"Issues of civil jurisdiction in Indian Country are complex but vital for the development of tribal sovereignty," said Spruhan. "This class will discuss the important federal cases and statutes and apply those cases to real world situations, so that tribal leaders and others within and outside Indian Country can understand the framework created by federal Indian law to make the important policy decisions that affect tribal communities."
Professor Ann Marie Bledsoe Downes (Winnebago Tribe of Nebraska) is the Director of the Masters of Legal Studies for ILP and works on the development of curriculum for the Indian Gaming and Tribal Self-Governance programs for the MLS and LL.M programs. Professor Bledsoe Downes is excited to expand ILP's online Federal Indian Law courses for the MLS program. There are now three Indian law MLS emphasis areas and this new course developed and taught by Spruhan is an important addition to each of these study areas. "Paul's expertise in this area and talent for the online classroom are the perfect fit for the Indian Legal Program and our new Indian Gaming and Tribal Self-Governance Programs," said Bledsoe Downes. "We also anticipate MLS students from other emphasis areas pursing this course, which is a great way to expose more of our student body to the field of Federal Indian Law and to improve understating of tribal governments and tribal sovereignty."
Please join ILP in welcoming Paul Spruhan to the ILP family!
________
DesiRae Deschine ('19)
Attorney, Navajo Nation Department of Justice