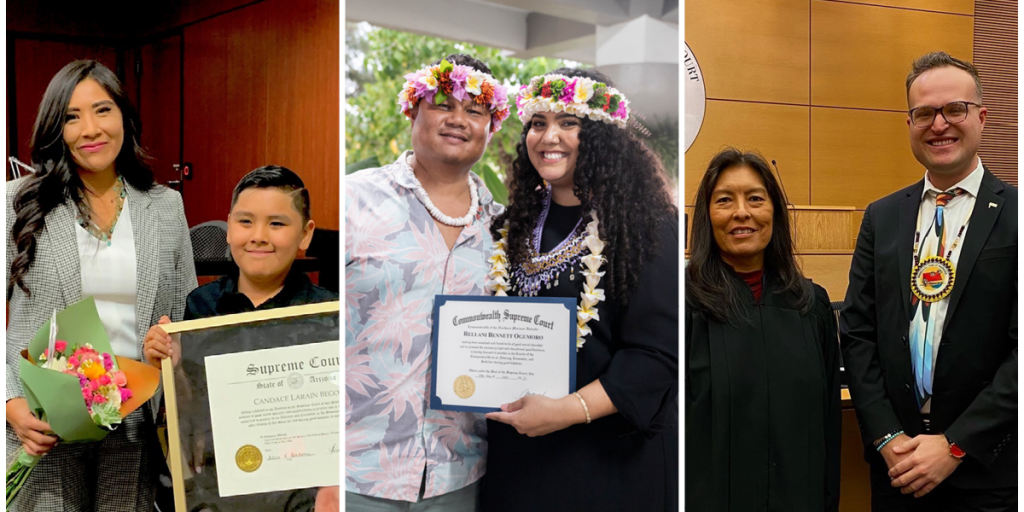 ILP alumni proved that this is no obstacle they can't overcome.

Very recently, Candace Begody ('21) took her oath of admission to the State Bar of Arizona. Candace, who is from Ganado, AZ, is a member of the Navajo Nation and expressed her complete gratitude. "I am feeling incredibly blessed to have taken my attorney oath to practice law in the State of Arizona," Candace said. "I want to send a special thank you to all my family, friends, my mentor Rob Rosette ('96) and my Rosette, LLP colleagues, the ASU Indian Legal Program and ASU Law, and all my mentors along the way, of of whom have shown me so much love and support through this journey. I also want to thank my mentors Tom Galbraith and Judge Randall Warner for making this ceremony so beautiful and special." Maricopa Superior Court Judge Randall Administered the oath in Phoenix, AZ.

Across the ocean, another recent grad celebrated her big accomplishment. On April 29, the Commonwealth of the Northern Mariana Islands' Supreme Court Chief Justice Alexandro C. Castro administered the attorney's oath to Rellani Ogumoro ('20) at the Carolinian Utt. The Carolinian Utt is a traditional gathering place akin to the center of traditional Refaluwasch society – it is where important decisions were made, safeguards the canoes and fishing equipment, and the site for gathering members of respective clans. Rellani was joined by all judges of the Commonwealth's Superior Court (where she is currently a law clerk), family, and friends.
"I am so thankful for all who helped me along this journey," Rellani said. "I am so grateful for PLSI and the ILP's investment in my legal education and bar exam preparation. I look forward to the work ahead and continuing the ILP tradition of alumni serving indigenous communities."

In December 2021, Alexander Mallory ('19) was sworn into the United States District Court for the District of Arizona by Judge Diane Humetewa ('93). 
We are so proud of you all!