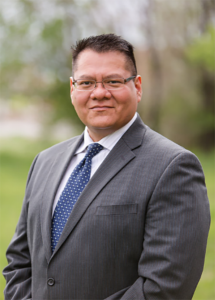 Keith Smith ('97) is currently the senior partner and founder of Smith & Shellenberger, LLC in Colorado. He started the business over 15 years ago, seven years after he graduated from ASU Law. He also sits as an administrative law judge for the Office of Hearings and Appeals for the Navajo Nation hearing ethics violation matters.
Smith knew he wanted to be a lawyer since he was 15. Smith spent much of his childhood with his Navajo grandmother, who often talked to him about politics and law.
"About the age of 13, [my grandmother] showed me some pages my grandfather found in an old metal desk he acquired from a local BIA school that was closing," Smith said. "He was going to throw them away, but my grandmother though they were important, so she kept them and asked me to read what she had saved and interpret the English words to Navajo. I did my best to explain the complicated discussions contained in the writings. It wasn't until over 10 years later, while attending Rebecca Tsosie's federal Indian law class, did I realize what my grandmother had in her possession. She had excerpts of Felix Cohen's original 'Handbook on Federal Indian Law.' Although my grandmother knew no more than 10 English words, she was a very intelligent woman and would often share her thoughts with me, particularly as it related to the history of our Navajo people and laws that affected us. Later, I shared this amazing discovery with my grandmother, and after I graduated from ASU Law, she retrieved the old tattered pages of what remained of the 'Handbook,' and gave them to me. She simply said, 'I think these belong to you.' She would pass on only three years after I completed law school, but these pages are one of my most prized possessions that illustrate the journey of my legal education. Thank you shimásání ."
"Since graduation I've encountered many new experiences and met some exciting and influential people," Smith said. "Overall, the journey has been very rewarding."
After graduating, he served as a staff attorney for the Navajo Nation's DNA Peoples' Legal Service firm in New Mexico. He then worked as in-house counsel and senior administration director for the American Indian College Fund, provided contract supervision for 31 tribal college construction projects, and later was an adjunct professor of law at the University of Denver Sturm College of Law and the University of Colorado at Boulder, his undergraduate alma mater.
In the late 90s, Smith also served as director of the Indian Legal Program.
He now practices tribal and federal Indian law at his firm, in addition to domestic relations, land issues, business law, employment matters and general civil litigation practices.
Q: What is the most valuable lesson you learned in the classroom that has helped you in your career?
A: Every question has an answer and every problem has a solution. We are trained to find a both, and do it well.
Q: Is there anything you've learned after graduating that you wished you learned in class?
A: Not to get lost in the minutia of the work. Take a step back to look at the big picture. Sometimes a solution to an issue requires you to work backwards, and sometimes you may development an innovative solution to a given problem.
Q: What originally made you choose ASU Law?
A: The Indian Law Program as my main attraction to ASU Law. The staff and faculty are top-tier and I learned so much from my experience while attending ASU, both academically and personally.
Q: What is your advice for current students?
A: I come from a background of sports, particularly as a football player and coach. In that regard, I often use metaphors from sports to convey a point to my kids and past students. Law school is a series of small steps that build on each other.
The hardest thing in doing anything worthwhile is, beginning the process. Just start, take one step at a time. Focus on one play at time; one quarter at time; and one game at a time. Don't get lost in what comes after, just focus on the task at hand, complete it well and move on to the next.
Do your genuine best. This standard can only be set by the individual; if you know you can do better, then do it. Don't settle for mediocrity. This will separate you from everyone else. There will be pain, sweat and tears to achieve what you want in law school, and in life. What separates you from others is if you are willing to 'hurt' to get what you want. If you do you genuine best, and deep down you know you have, don't sweat the rest, it'll take care of itself and your efforts will not go unnoticed.
Very simply put: BELIEVE. Believe you can do it, and it will happen.