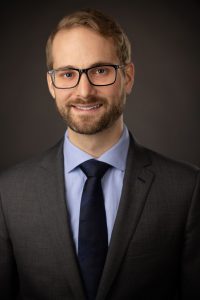 Jacob Kostrzewski, IRLS Program Coordinator, sat down with David Pace, JD '20, to discuss his career at ASU Law and participation in the Jessup International Moot Court competition, and what he has been doing since graduation.
Dispatch: You recently started a new position at the Department of Justice in Washington, D.C. What is your role at the DOJ? How are you liking it so far?
Pace: I work for the Intellectual Property (IP) Section. Our section represents the United States in matters where a patent, copyright, trademark, or trade secret is at issue, which primarily involves litigation. So far, I have worked exclusively on patent matters. I am currently working on a case with patent infringement claims involving the United States. I really enjoy working for the IP Section. The work is interesting, the people are great, and I am able to maintain a life outside of work.
Dispatch: What externships did you do while at law school? Which did you find to be most useful in shaping your career path?
Pace: I externed for the Arizona Attorney General's Office; the honorable Judge John Tuchi of the United States District Court for the District of Arizona; the United States Attorney's Office for the District of Arizona; and SkySong Innovations, the technology transfer office for ASU.
Externing for Judge Tuchi and the United States Attorney's Office were instrumental in determining my career path. Externing in chambers was incredibly important because it instilled in me a stubborn resolve to find and pursue employment in which I was genuinely interested. I always looked forward to heading to chambers not because I wanted to put something on my resume or have a reference, but because I genuinely enjoyed being and working there. Funnily enough, my time externing was more valuable for obtaining future employment than I believe it would have been had I viewed the opportunity as a means to an end.
While externing for the United States Attorney's Office, I was introduced to the Honor's Program through which law school students or students who clerked after graduation apply for employment with the DOJ. I noticed that a small section existed within the DOJ that litigated IP matters on behalf of the United States. The position lined up with my experience incredibly well. I like to think that such an opportunity was the result of my stubborn pursuit of opportunities in which I was genuinely interested. But, maybe I was just lucky.
Dispatch: You competed in the Jessup International Law Moot Court competition as a law student – what brought you to Jessup, and how did participating in it shape your law school and post-law school career?
Pace: I stumbled into Jessup, really. I had competed in internal moot court competitions within the law school, and I knew I wanted to further pursue moot court. However, I had no interest in or knowledge of international law. By the time I graduated from law school, however, international law was one of my favorite and most understood areas of law alongside patent law. Whoever is reading this is going to laugh at what I'm about to say, but Jessup taught me a really important lesson about life. The preparation required to succeed in Jessup was tremendous. But, I never saw it as work. To the contrary, I enthusiastically poured through treaties, reports from international organizations, and what would otherwise be incredibly dense and boring material because it had special significance to me. I loved oral argument and that transformed work that otherwise may have been boring into something from which I had to drag myself away. Do something that gives you a buzz. That concept has been fundamental to my law school and post-law school career.  
Dispatch: What tips do you have for law students looking to begin a career with the Department of Justice upon graduation?
Pace: I have to include the important but mundane advice. Be prudent. Stay on top of opportunities and deadlines. Try to gain experience and build relationships that will set you up as a strong candidate. However, also do not be afraid to do something that may not appear directly related but in which you are interested. For me, as far as I knew, patent law had nothing to do with the DOJ and little to do with working for the government. For two years of law school, I thought that I was pursuing two divergent paths; one in patent law and one in government litigation. However, my pursuit of those two seemingly unrelated paths turned out to be the reason I was able to obtain employment with the DOJ.
Dispatch: Any final thoughts?
Pace: Keep an open mind and keep perspective. It is easy to get caught up in the rat race. Take a step back and think about what you actually want to do, and do not let what you think you should do entirely govern your path.