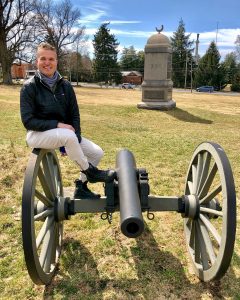 Jacob Kostrzewski. Jacob is the Program Coordinator for the International Rule of Law and Security Program at the Sandra Day O'Connor College of Law at Arizona State University.
Jacob sat down for a discussion with Alexander Mallory, JD '19, to hear about his time in the IRLS program last spring, and what he has been doing since graduating.
Jacob: You spent the Spring 2019 semester in Washington, D.C. What were some of the highlights of your time in D.C. and the IRLS program?
Alexander: I participated in the Washington, D.C. program in the spring of 2019.  While there, I studied international criminal courts and international criminal justice. Through this class, I developed a deeper understanding of international law and the unique role the United States has in its formation. I loved working in D.C. It was one of the best experiences I had in law school. From working in a multinational law firm to networking with peers, D.C. offers an excellent avenue for both personal and professional growth. I particularly enjoyed the networking and educational events the IRLS program hosted.
J: Where did you extern while in D.C.? What did you work on?
A: I externed at Akin Gump Strauss Hauer & Feld LLP and worked on litigation in the Native American Law and Public Policy practice group.
J: Why did you decide to apply for the Department of Justice (DOJ) Attorney General's Honors program?
A: I applied for the DOJ Honors Program because I value public service and believe government can be a force for good. My Choka ("grandfather" in Ho-Chunk) served on our tribal council for over twenty years and taught me that true fulfillment comes from serving a cause greater than yourself.
J: How did your time in D.C. help prepare you for the DOJ Honors program? 
A: Working at a multinational law firm taught me the importance of candid communication and time management skills.
J: What have you been working on as part of the DOJ Honors program?
A: I serve as a Judicial Law Clerk in the Executive Office for Immigration Review. My primary role is to draft court opinions for Immigration Judges in detained and non-detained proceedings. These decisions include issues related to asylum law, adjustment of status, and statutory bars to relief including crimes involving moral turpitude, aggravated felonies, and serious non-political crimes.
J: You're now completing the first year of the two-year program. What are your plans for next year?
A: Once I finish my clerkship through DOJ Honors, I hope to clerk for a federal district court.
J: Do you have any tips for students interested in the DOJ Honors program?
A: I would highly recommend any student interested in public service apply to the DOJ Honors program.  It's a terrific program and I am grateful to participate in it.