Alexandria Saquella. Alexandria is a 3L at the Sandra Day O'Connor College of Law at ASU. She served as President of the International Law Society in her 2L year and currently is a Senior Articles Editor for the Jurimetrics Journal of Law, Science and Technology. Alexandria interned on the Parliamentary Watch Program at the Judicial System Monitoring Program in Dili, Timor-Leste, during the summer of 2019. 
This post is part of the Dili Days series. Four ASU Law students spent their 2019 summers living and interning in Dili, Timor-Leste, where they worked on international rule of law and development issues. Scholarship awards generously provided by the Jones Day Foundation supported their internships in Timor-Leste.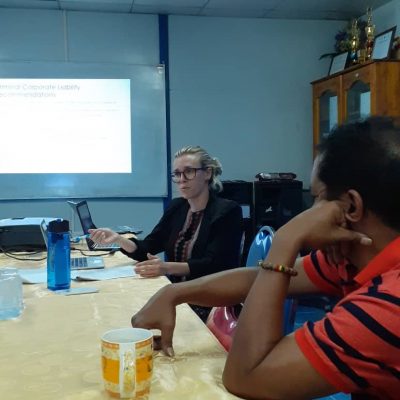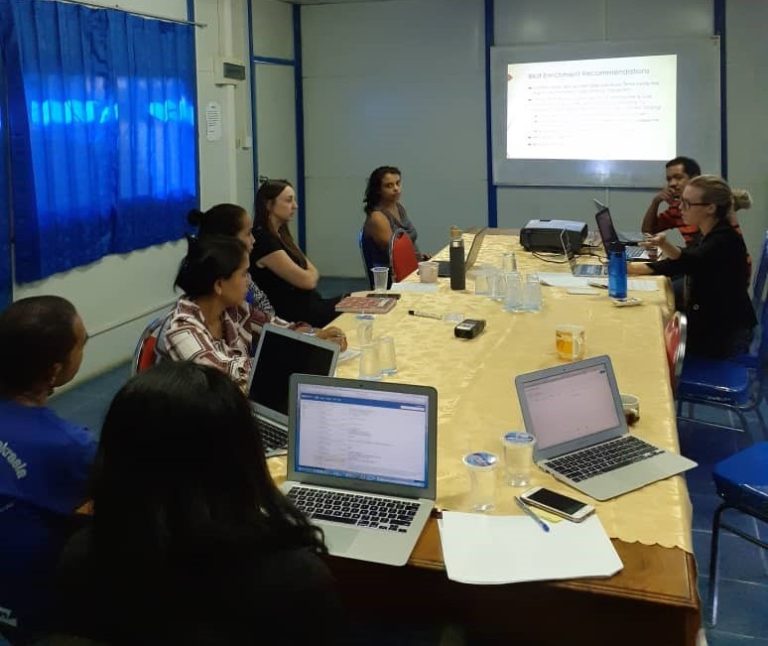 The idea of analyzing anti-corruption initiatives in Timor-Leste made me eager to start my legal internship at JSMP. Still, I had countless questions and was slightly overwhelmed. The inherent deceptiveness of corruption made the research I was about to conduct seem daunting. What sort of impact could I really make? Would my recommendations add to the Timorese Parliament's discussion about the long-overdue bill moving through committee or would they be more like stones thrown into a pile of unturned rocks?
The anti-corruption bill currently moving through Parliament has two main components. First, it adds a criminal corporate liability clause. This means a corporation can be held liable for the corrupt offenses of its employees. And second, it institutes an illegal enrichment clause, which effectively makes it a criminal offense for a public official to come into large amounts of money without proving that he or she did so legally.
Most of my time researching was spent wrapping my brain around illegal enrichment and the controversy surrounding it. I could just hear Uncle Sam screaming, "Where is the crime?" and "What about the prosecutor's burden to prove beyond a reasonable doubt?!" It took me some time to understand that developing countries, like Timor-Leste, where corruption is pervasive, may initially require stricter laws. The idea is that a strong public interest in fighting corruption may come at the cost of reversing the burden of proof to the defendant in corruption cases. However, as proposed in the report I submitted to my JSMP supervisor, there are other ways to protect a defendant's human rights. For instance, I recommended that public officials charged with illegal enrichment have typical counter-claims available, such as the right to claim that the prosecutor is acting in bad faith.
As many others have learned before me, a law can be written perfectly, but it is useless if it goes unenforced. Timor-Leste knows this lesson well. With that in mind, I recommended that Parliament institute a mechanism requiring all public officials and candidates for public office to annually report their assets as well as any gifts or benefits they receive. An existing agency, such as the Anti-Corruption Commission, should be tasked with compiling these reports and conducting investigations into any irregularities or suspicious information. 
After writing my report, which turned out to be a comparative analysis on how similarly situated countries have handled corruption, I presented my analysis and recommendations to the JSMP staff. The presentation sparked a great discussion, which allowed me to further supplement my report with additional recommendations. Having a translator at the meeting was extremely helpful and allowed the discussions to flow smoothly, even when the content of my presentation contained difficult legal concepts. Upon finalizing my report, my JSMP coordinator, Jose Pereira, translated it into Portuguese and sent it to Parliament.
Instead of stones thrown alongside many other overlooked and unturned rocks, my experience felt more like a stone tossed into a pond creating a ripple effect, possibly a real difference for the people of Timor-Leste.