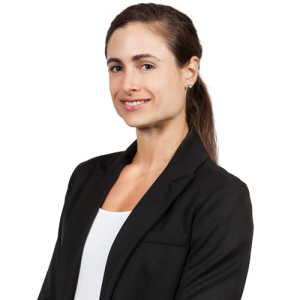 Jacob Kostrzewski, IRLS Program Coordinator, sat down with Katie Surma, LLM '18, to discuss her experiences in the IRLS program during the Spring 2018 semester, and what she has been doing since graduating.
Dispatch: You participated in the IRLS program in the Spring of 2018 – why did you choose to pursue the IRLS program, and what were some of the highlights of your time in the program and in Washington, D.C.?
Surma: Before joining the IRLS program, I had been practicing as a financial servicing attorney for a number of years. I value learning and development and have had a long-standing interest in rule of law and human rights issues. When I saw the IRLS program, I knew it would be a great fit for me.
Dispatch: Where did you extern while in D.C., and what did you work on?
Surma: While in D.C., I had the good fortune of working for Center for Civilians in Conflict, which is an organization working to protect civilians in conflict zones around the world. I got to work on a large-scale research project examining international law and U.S. policy and practice related to investigations of civilian harm incidents that occur in the course of military operations. Over the summer, I was very lucky to work for Dennis Kwok, a member of the Hong Kong Legislative Council representing the city's legal profession.
Dispatch: What have you been doing since graduating from ASU Law? How have you used the skills, knowledge, and experiences you gained through your time in Washington, D.C. to further your career?
Surma: I've been practicing law at Eckert Seamans Cherin & Mellott and recently finished a Roy W. Howard fellowship at ASU. I've also been reporting and writing for different publications, including the Chicago Tribune and Arizona Republic. The IRLS program gave me expertise in new areas of law and expanded my scope of practice into an area I am passionate about.
Dispatch: Would you recommend the IRLS program to students looking to gain an expertise in international rule of law and related issues?
Surma: Absolutely. The program is engaging and pragmatic and provides students with opportunities to gain real-world experience in those areas. The professors are passionate about their work and take an interest in making sure students succeed.
Dispatch: What tips would you give to students looking to pursue the IRLS program and spend time in D.C.?
Surma: Learn anything and everything you can, going beyond what's in your course materials. Attend think-tank talks, volunteer for extra work and build relationships with your colleagues and classmates. Also, take some time to enjoy the many museums and institutions in the district.
Dispatch: Any final thoughts?
Surma: I think the IRLS program provides students with an awesome opportunity to make a difference in the world. The work they will do is especially important now, as the rules-based international order is being challenged around the globe.