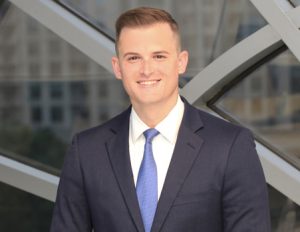 Jacob Kostrzewski, IRLS Program Coordinator, sat down with Ian Hatch, JD '19, to discuss his experiences in the IRLS program during the Spring 2018 semester, and what he has been doing since graduating.
IRLS Dispatch: You participated in the IRLS program in the Spring of 2018 – why did you choose to pursue the IRLS program, and what were some of the highlights of your time in the program and in Washington, D.C.?
Hatch: I wanted to take advantage of the opportunities that ASU Law offers. There are many different avenues that you can take in law school to have a successful career. For me, it was very important to get work experience with real attorneys and see what it means to practice, instead of just spending time in a classroom. The classes in D.C. were great, but I really wanted to go to gain real-world experience. I was very interested in government and politics and I knew that going to D.C. would enable me to gain experience in the field. You can work at the state level in Arizona, but if you want to do anything at the federal level, you have to go to D.C. The highlights of my time in D.C. included the classes and my externships. I was able to learn from people who spent so much time in the field.
IRLS Dispatch: Where did you extern while in D.C., and what did you work on?
Hatch: I did two externships while in D.C., one in the Spring 2018 semester and one that summer. During the spring, I was at the Committee on Ways and Means in the U.S. House of Representatives. I worked in the area of tax and IRS reform to make the tax payment process easier for taxpayers. It was definitely an interesting time to be there working on tax issues. I spent a lot of the spring semester making a lot of connections and networking, and applying for positions for the summer. That got me my position at the Senate Judiciary Committee, which really made my career and helped me in my post-graduation opportunities. At the Senate Judiciary Committee, I helped prepare for the Justice Kavanaugh hearings. It was a really contentious and exciting time to be there. The Director of the FBI and the Attorney General visited a few times and it was really exciting to be in the heart of everything happening.
IRLS Dispatch: What have you been doing since graduating from ASU Law? How have you used the skills, knowledge, and experiences you gained through your time in Washington, D.C. to further your career?
Hatch: I just finished a one-year clerkship at a federal district court in the Northern District of Texas. I'm starting at a boutique litigation firm in Dallas later this month. In 2022, I will clerk for Judge Kurt Engelhardt of the United States Court of Appeals for the Fifth Circuit. The D.C. classes and externships really helped me get here. The classes and professors are fantastic, and you just learn so much living and working in D.C. My former supervisors served as mentors and helped me secure my clerkships by recommending me and vouching for my skills and abilities that I demonstrated during my externships in D.C.
IRLS Dispatch: Would you recommend the IRLS program to students looking to gain an expertise in international rule of law and related issues?
Hatch: Absolutely. I don't think there is a better program than the IRLS program. The time you spend in D.C. learning from professors who have so much real-world experience whether they are an ambassador, general, or war crimes prosecutor, is invaluable. You get to work in the field, whether it's at a federal agency or department, or Capitol Hill, or a non-governmental organization, and gain practical skills. There is no better program for gaining experience in the international rule of law field.
IRLS Dispatch: What tips would you give to students looking to pursue the IRLS program and spend time in D.C.?
Hatch: The best advice I have is to take advantage of all the opportunities in D.C. and speaking with and learning from all of the people you will meet there. I found that many people wanted to help law students – the professors, attorneys. The hardest part is to ask for help, whether it's to grab a coffee or ask for a letter of recommendation or just career points and tips. People want to help, so if you go up to a colleague or contact or professor and ask for their opinion or advice on something, I have found that people are very eager to do that. And it can make a huge difference in a young attorney's career.
IRLS Dispatch: Any final thoughts?
Hatch: If you spend law school just taking courses, you will probably have a decent career. But if you really want to do interesting and cool things, you need to branch out and take risks. I think going to D.C. and working full-time does so much more for your career than just sitting in a classroom for three years.