Pedro Pizano and Albi Çela. Pizano is the Northwestern-McCain Public Interest Legal Fellow at ASU's McCain Institute for International Leadership. Çela is an International Rule of Law and Security Program Fellow at the Sandra Day O'Connor College of Law at Arizona State University in Washington, D.C. [Disclosure: Amb. Williamson is their boss, director and professor, respectively.]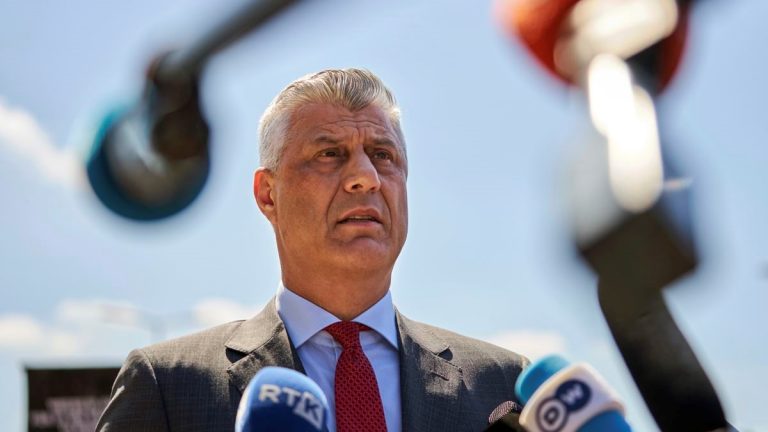 The sitting President of Kosovo, Hashim Thaçi, was questioned from the 13th to the 16th of July of 2020 at the Kosovo Specialist Chambers & Specialist Prosecutor's Office in The Hague, following the announcement that the Prosecutor had filed an indictment (still subject to confirmation by a Pre-Trial Judge) charging him with crimes committed during Kosovo's 1998-99 independence war with Serbia.
Thaçi was questioned in the presence of his American lawyer, Pierre-Richard Prosper, who previously served as U.S Ambassador-at-Large for War Crimes Issues and as a prosecutor at the International Criminal Tribunal for Rwanda.
Before submitting himself to questions from the prosecutor, Thaçi said, in English:
I am here today to respect what I dreamed and fought for: a free, independent Kosovo based on equal rights, multiethnic society, and the rule of law. I am ready to face the new challenge and succeed for my son, my family, my people, and my country. Nobody can rewrite the history. This is the price for freedom. I believe in peace, truth, reconciliation and justice. I believe in dialogue and good relations with all neighbors. Kosovo is a success story and I am very proud. Kosovo's destination is [to become a] member of EU, NATO and eternal friendship with the United States.
I am very pleased that for the past four days I have had the opportunity to give clarifications on all issues related to my activity during the war, efforts for peace, stability, development, and progress. During these days, I have tried to give clarifications about my role and responsibilities in the Kosovo Liberation Army . . . My testimony was long, but we had productive hearings. Now it's up to the prosecutor, and the judge, to impartially evaluate my testimony. If they do it professionally, they can easily conclude that I have not committed any war crimes . . . No one can change our history.
When asked whether he had been questioned about the infamous "Yellow House" in Albania, and allegations on organ trafficking, Thaçi stated that he cannot give details of his interview with the prosecutor.
Prosecutor Jack Smith of the Specialist Prosecutor's Office filed an indictment on April 24, 2020 with the Kosovo Specialist Chambers, charging Thaçi and a group of other former Kosovo Liberation Army (KLA) "freedom" fighters with a range of crimes against humanity and war crimes, including murder, enforced disappearance of persons, persecution, and torture. Thaçi is alleged to be criminally responsible for the murder of nearly one hundred known victims of different ethnicities, including Kosovo Albanians, Serbs, and Roma.
The public notice of Thaçi's indictment was unsealed on June 24, a few days before he was scheduled to visit the White House for talks with his Serbian counterpart. Through these talks, the U.S had hoped to achieve an agreement between the two countries, which have not normalized relations since Kosovo's unilateral declaration of independence in 2008. Thaçi cancelled his trip due to the indictment and announced that he would resign if the charges were confirmed.
In his June 24 statement in the IRLS Dispatch, Ambassador Clint Williamson, former U.S Ambassador-at-Large for War Crimes Issues and a former Trial Attorney at the International Criminal Tribunal For Yugoslavia, restated his 2014 position as Chief Prosecutor of the Task Force, stressing that the investigation does not involve the KLA as a whole, but rather criminal actions of certain individuals.
"No matter what the circumstances are that led to that conflict, though, there is nothing that justifies the intentional targeting of innocent individuals," said Ambassador Williamson.
This was further emphasized by Ambassador Williamson in an interview for Syri TV, a television station in Tirana, Albania (full clip below), and in a discussion with a group of young professionals from the Western Balkans, during which he also stressed the importance of holding perpetrators accountable for war crimes in order to achieve sustainable peace in the former Yugoslavia.
It is important to reiterate that the investigation into Thaçi does not involve the KLA as a whole. However, that does not mean that Thaçi, Kadri Veseli, and other individuals did not commit war crimes and crimes against humanity.
Many have dreamed and fought for a free and independent Kosovo in accordance with the laws of war and international human rights law. This indictment, investigation, and possible prosecution, trial and appeal, however, will show–beyond a reasonable doubt—if Thaçi was not one of them. Again, nothing justifies the intentional murder, torture, forced disappearances, and persecution of nearly a hundred known innocent individuals.
The indictment of Thaçi—and his voluntary submission to the Court—is another step in the 30-year arc that slowly bends, and only if we will it, towards justice and reconciliation in the Balkans.